On Wednesday, December 7, 2016, this great nation will commemorate the 75th anniversary of the attack on Pearl Harbor, a day that will live in infamy. We honor, remember, and recognize our military men and women, and their families who, 75 years ago, fought and died for our nation. 'In total, 2,403 Americans died and 1,178 were wounded. Eighteen ships were sunk or run aground, including five battleships. All of the Americans killed or wounded during the attack were non-combatants, given the fact there was no state of war when the attack occurred.'
December 7, 1941, was the day of the Japanese surprise attack on Pearl Harbor, Hawaii, and the day the United States of America was thrust into the Second World War. Now 75 years later, America gathers as a nation to pay tribute to those who fought or died on that day of tragedy, sacrifice, and honor.
On Thursday, November 10, 2016, the HUD Veterans Affinity Group (VAG) had the privilege to honor, and recognize the following three WWII veterans, including one who fought at Pearl Harbor on December 7, 1941. See enclosed YouTube links for photos and the 2016 HUD Veterans Day Ceremony/50th
Anniversary of the Vietnam War Commemoration.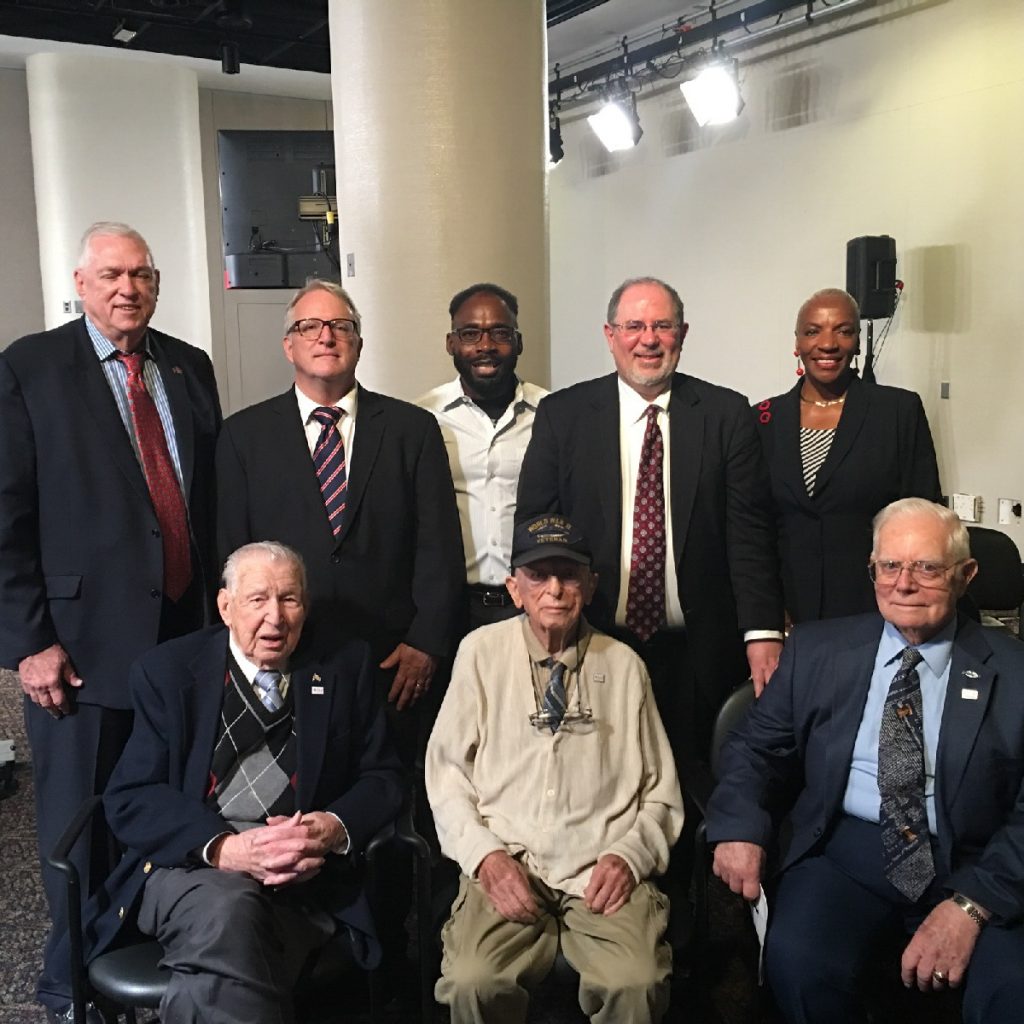 These three veterans, photographed above, honored us with their presence at the VAG Veterans Day Ceremony:
Colonel William DeGraf was the youngest enlisted man in the history of the Second World War to receive a battlefield commission, six days after his 19th birthday in combat in France. Colonel DeGraf would later fight in Korea and Vietnam, and serve on the White House National Security Council.
Colonel Andrew O'Connor enlisted in the Army in 1940 and was stationed at Pearl Harbor on December 7th, 1941 when Japan began their surprise bombing attack on the United States. Colonel O'Connor could actually see the faces of the Japanese pilots as they strafed and bombed him and his colleagues. Colonel O'Connor returned fire and thereafter joined his fellow service members in the Pacific in a series of formidable battles on islands such as Saipan and Okinawa in destroying Japanese Imperial forces. He fought the Japanese until their surrender in August of 1945. Colonel O'Conner further served in combat during the Korean War.
Colonel William Kormos enlisted in the U.S. Army immediately after Pearl Harbor. He fought as an infantryman against the Nazis in France, Belgium, and Germany in brutal combat. He later served as an engineer in the United States Air Force. Colonel Kormos later used his extensive engineering knowledge and skills for peaceful purposes in helping to enhance American industrial capacity and efficiency. For more information about this special event click on the links below.
2016 HUD Veterans Day Ceremony/50th Anniversary of the Vietnam War Commemoration:
2016 HUD Veterans Day Ceremony Photos: