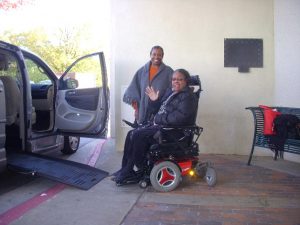 On Friday, October 28, 2016, the National Association of American Veterans, Inc., President and CEO Constance A. Burns, along with Te'tro Martin, Certified Mobility Consultant for MobilityWorks in Beltville, Maryland, presented a Disabled OIF Veteran, Deborah A. Hunter, with a 2016 Dodge Grand Caravan Companion Van Plus XT Conversion, equipped with a Braun XT power side entry. Thanks also goes to Chris Paczak, MobilityWorks Vice President of Marketing, and Matt Swope, BraunAbility Director of Sales Eastern United States. NAAV was instrumental in completing the necessary paperwork to ensure that Ms. Hunter could receive some financial support from the U.S. Department of Veterans Affairs because of her 100 percent disability.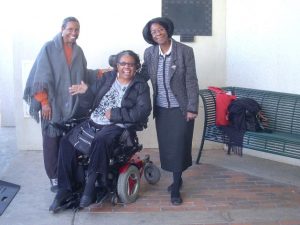 The recipient, Deborah A. Hunter, a disabled Veteran of the war in Iraq, has resided at the Community Living Center since 2006 and had her first opportunity to ride in her new van with her sister Edna E. Jacobs on October 11 at the DC VA Medical Center in Washington, DC. Ms. Hunter joined the U.S. Army as an E-3, served as an S-1 in Wiesbaden, Germany, and later as an Operations Clerk S-3 in Fort Riley, Kansas, and served in Iraq from 2001 to 2003. She received a BS degree in biology at Fayetteville State University in North Carolina.
Ms. Hunter and her family are very thankful to NAAV and its partners for completing the application and reaching out to the MobilityWorks Foundation and BraunAbility for the donated accessible van.
"The MobilityWorks team is outstanding," she said. "I am able to go more places than ever before. My sister will be able to take me to lunch and dinner, and I will be able to take short trips on the weekends."