Story and photos by Robert W. Mitchell | AFRH-W Volunteer Coordinator
The 2019 Memorial Day Cookout at the Armed Forces Retirement Home here in Washington, D.C. was a huge success for residents, staff and volunteers, thanks in part to the community outreach and volunteer service by Rolling Thunder Chapter 2 New York.
"We love coming here and we plan to keep coming back every year," said chapter president, Vinny Perno. "It's an honor to be here."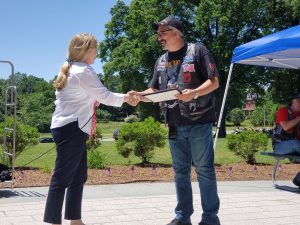 Perno had reached out to AFRH for the second year in row looking to have his group volunteer for the Memorial Day Cookout on May 24.
Sixty volunteers riding on 30 motorcycles arrived early ready to help with preparing for the afternoon festivities. Right away, they started setting up tents, unfolding tables and chairs and posting American flags.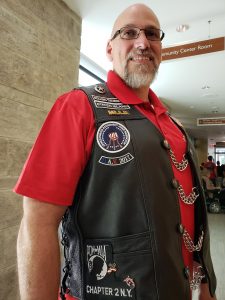 Volunteers escorted healthcare residents to and from cookout and enthusiastically served as wait staff providing residents with food and drink. Their participation ensured everyone had someone to talk to, someone to eat with and someone to engage with.
Residents truly felt appreciated when about 30 Rolling Thunder volunteers lined up on both sides of the hallway from the Scott Lobby to the Defenders Inn in order to greet residents as they made their way out to the cookout. They were greeted with warm applause and cheers (and cameras) as if they were on the "red carpet".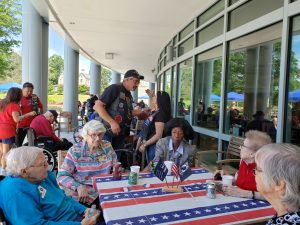 The volunteer/community outreach effort positively impacted the event and AFRH-W Administrator Susan Bryhan for them for supporting AFRH. She presented Perno and his riders with an AFRH-W Certificate of Appreciation and a coveted administrator's coin.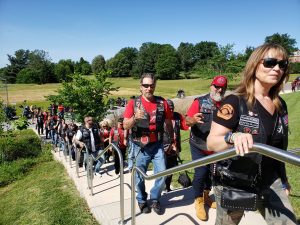 Rolling Thunder Chapter 2 New York made the 200 hundred mile trek from Staten Island, New York to Washington, D.C. to participate in the annual ride on Washington, a tradition that has taken place over several decades. Despite reports of the national organization halting the annual trip to D.C., Perno assured residents that his chapter will continue to visit AFRH every year.