While the leaves are falling, there have been many notes of thanks for giving. The National Association of American Veterans (NAAV) is proud to have celebrated this year both Veterans Day and Thanksgiving with you, your families, and our greatest reward—American Veterans.

October 2018 and November 2018 Times of Testimony
Who Knew:
"Blessings to you Ms. Burns and the National Association of American
Veterans. I want to thank you for the gift certificate to Bone Fish
Grill. God knows I needed to get away yesterday for a few hours, and I
remembered that gift certificate.  I couldn't get to the restaurant
quick enough. It was the first time I visited the restaurant so I wasn't
familiar with the menu. I had a wonderful waiter named Darryl Thompson,
who recommended items for me to enjoy. The meal was great, and the
service was outstanding. I thank God for The NAAV and most of all for
you Ms. Burns, for caring so much about us caregivers. Have a blessed and
wonderful day," LJ
In October 2018, the National Association of American Veterans, Inc. (NAAV) received three donated wheelchairs in support of military families most in need of accessibility. In August of 2018, NAAV received a donated Hoveround Motorized Scooter with a market value of $4,000 from Julie Rhodes, caregiver and now widow of deceased Veteran Russell "Rusty" Rhodes of Potomac, Maryland.
Over the past several years, Mrs. Rhodes received professional assistance with her husband's VA claims and benefits from NAAV including caregiver resources and referrals. In October, this donation to NAAV was awarded to another Veteran caregiver residing in Washington, DC.

"I want to take this time to thank you for the contribution of the motorized scooter for my husband Lawrence Myers. I am caring for Lawrence recovering from a stroke and my son Derrick with both leg extremities amputated from the knee down. Lawrence has a difficult time with mobility, it was a hindrance moving around before we received the motorized scooter. This powered wheelchair will make it more convenient to transport him to and from scheduled medical appointments. In addition to moving around the house. Unfortunately, we could not afford to purchase a scooter out of our income.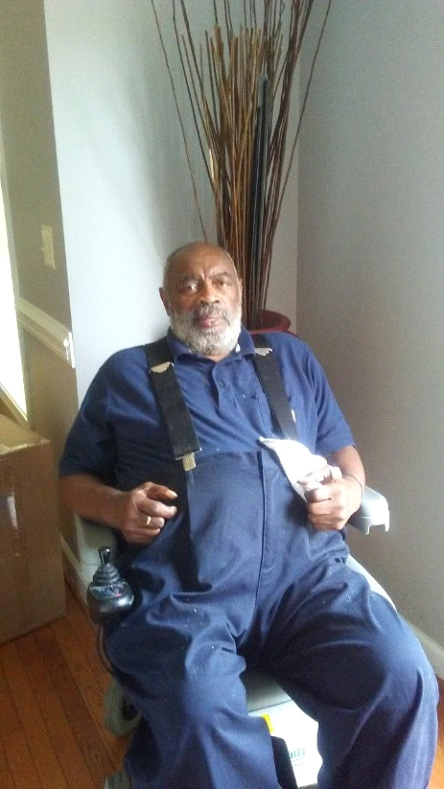 Again, we are extremely thankful for the donated Hoveround motorized scooter." – Barbara Myers, Washington, DC.
Again, in October 2018, NAAV received two wheelchairs from Annie Walker a widow and mother of a deceased Veteran residing in Bowie, Maryland. Both wheelchairs one manual and one electric were received in brand new condition with accessory parts inclusive of the charger, never used and with a market value of $1,885.01 and $596.00 respectively and given to the Armed Forces Retirement Home-Washington, DC.
These two wheelchairs will be of great benefit to a Veteran at the AFRH-Washington in need of mobility equipment to enhance his or her quality of life. Below is Mr. Ray Anderson, one of the veterans who received a newly donated wheel chair in November 2018.
Following, Mr. Anderson is shown proudly seated in his new facilitated chair as he plays the piano at the Sunday morning Retirement Home-Washington, DC on Veterans Day: