Ernest Andrus Continues to Stride
The featured title is an extract from the book of 2 Timothy 4:7 from the great Apostle Paul, who despite setbacks, imprisonment, shipwreck, and other obstacles he faced in life, his commitment and strength beyond his natural abilities were his testimony. During his lifetime, the Apostle Paul achieved accomplishments that many Christians today have come to know, trust, and believe in for our lives . . . A saving grace onward to obtaining a crown of righteousness.
In August 2015 the National Association of American Veterans, Inc. featured a story of retired Navy Veteran Ernie Andrus.

At that time, Ernie was on a mission to run from the West to the East Coast on a compassionate mission to raise capital for his beloved LST 325 WWII battleship—similar to the one shown below:

LST 325 at Normandy, June 1944 (navousource.org)
Photo retrieved from United States LST Association website (homepage) on August 8, 2015. Used with permission from Microsoft. This copy pulled from NAAV featured story from August 2015.
In September 2016, shortly after his 93rd birthday, Ernie set foot on the coast of St. Simons Island after an amazingly ambitious trek consisted of running three days a week, with an average of 6.13 miles per day and averaging about 18.4 miles a week.
All along the way, Ernie had spectators and runners to cheer him on and keep him company for a few miles as he passed through streets and towns like a national celebrity.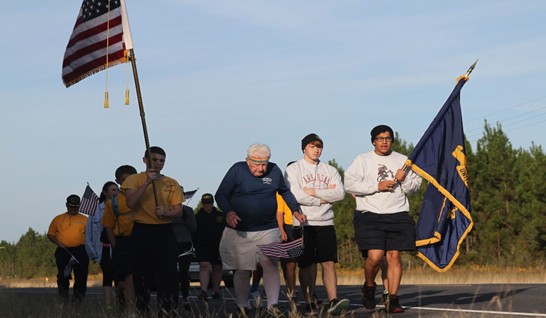 October 2015
Although Ernie had a few setbacks in the beginning, including the unfortunate loss of his wife, Susan, like any dedicated solider, Ernie tighten up his shoestrings and persevered, enduring the race and maintaining a pace of 6-plus miles per day. He literally kept the faith and successfully completed his mission.
In his words: "During the run I only took seven weeks off. Three weeks when my wife passed away, a week for each Christmas, and a week to attend the Whiskey Row Marathon in Prescott, Arizona, to receive the Al Clark award."
Below is a picture of Ernie on the shores of the East Coast, receiving much justified recognition and congratulations on his heroic trek. The money he raised for the LST 325 was not quite enough to cover the ship's voyage back to the shores of Normandy, but it was enough to cover some necessary restoration and detailing.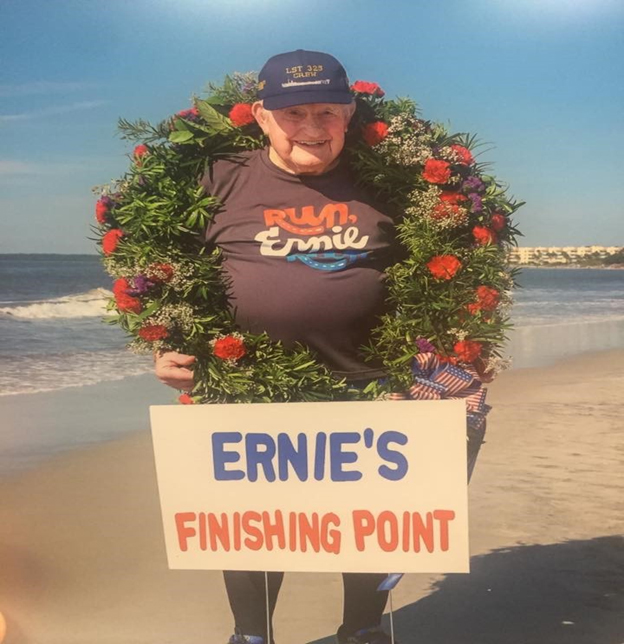 "I completed my coast to coast run one day after my 93rd birthday. Finished at the old Coast Guard Station on St. Simons Island, Georgia. Runners, family, and well-wishers came from all across the nation to run or just be at the finish. This was the largest crowd ever assembled on St. Simons Island. I finished my run in 999 hours, 32 minutes with an average pace of 22:47:15." 
Ernie has been blessed. He purchased a home in Sun Lakes County, as he was "so impressed by its beauty." Now more determined and committed to finishing anything he sets his heart and mind to, 95-year-old Ernest Andrus is still on a mission to move forward. He's running three days a week; however, instead of covering the 18 miles per week, he's cut it back to 13 (Smile).
Upon arriving back in California, Ernie has been involved is several special events and celebrated occasions:
"I have ran several 5K's, a 10K, and three 200-mile relays. Lord willing, I will run another 200-mile relay next February . . . the Ragnar Del Sol in Arizona. 
I was guest speaker last November at the Pro Football Hall of Fame, Patriots Project. Met some real heroes there. 
I celebrated my 94th birthday by running the Cascade 200-mile relay from Spokane, Washington, to Sand Point, Idaho. This was a fun run ending at the beautiful Lake Pend Oreille. The run has very special memories because my step-grand-daughter lives there and ran along with me. I had two birthday celebrations with yummy cake. One at the finish and the other at Joyce's. We were able to see the eclipse."
And what about the LST 325 you ask—well, Ernie says this: "I have no record of how much was sent directly to the ship. My guess is the total was somewhere between 30 and 40 thousand. Only a drop in the bucket to what it would take to fulfill my dream. The money was used to restore and keep the ship in ship-shape. They took it on a cruise to Tennessee this month and gave tours."
NAAV is truly proud of Mr. Andrus's accomplishments and story. He is the type of person who can give us all hope! "Very little money coming in now, but I haven't given up on the project. So many friends have been telling me I should write a book." A book, he says? We have no doubt that he is able, and we look forward to hearing more. We will allow Ernie the last few words of this featured story, because after all, it's tribute to him: When I give a presentation, I find what most people are interested in is the Great Depression, World War II, and running, so I decided to make it an autobiography, thereby covering all three. If I live long enough to finish this book. I'm working on another project that could possibly raise enough money, probably not in my lifetime, but the LST was used right up through Vietnam, so maybe some of those Veterans will still be around.  
Thank you for what you are doing for the Veterans. Ernie


So there we have it—a lesson on finishing well and finishing what we have set out to do—whether it takes a year to complete or one day's effort. Ernie Andrus is an example of the type of characteristic that NAAV sees in all of you, our supporters, sponsors, and volunteers. You have kept up with this organization and followed through during both the good and the hard seasons. NAAV thanks you for not giving up, for keeping the pace, and adjusting your stride to come alongside us as we continue to be there our American Veterans and their family members who reach for assistance from coast to coast. Thank you for helping us to fill their cups in more ways than one.
And a big thank-you from all of us at NAAV to Ret. Navy Corpsman Ernie Andrus for inspiring us all to, despite the obstacles, keep on moving until the mission is accomplished.
Kindly submitted,
Obo/NAAV Inc.
Media and Publications
Washington, DC