The First African American Nurse – Nancy Leftenant-Colon, Major (Retired) was the first African American nurse to serve in the reserve or active-duty Army/Air Nurse Corps, the precursor of the Air Force.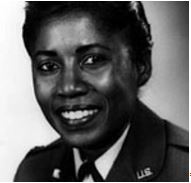 *https://www.becauseofthemwecan.com/
She joined the Army Reserve in 1945, unable to get into the regular Army Nurse Corps because she was African American. The only woman to become the first president of the Tuskegee Airmen, Inc. from 1989-1991. Along with selected members of the Tuskegee Airmen, she received the Congressional Gold Medal from President George W. Bush on March 29, 2007. There are a hundred and one words' that could describe (Retired) Major Nancy Leftenant-Colon, for each of her 101 days on earth. She has been described as "brave, steadfast, dedicated," and a "trailblazer."
Nancy Leftenant-Colon, a true Pioneer, will celebrate her 101st birthday at the Dominican Village in Amityville, New York, where she lives in an independent assisted living apartment dwelling facility.
Major Nancy Leftenant-Colon, U.S. Army/Air Force Nurse Corps (Ret) entered the U.S. Army in January 1945 as a reservist in the Army Nurse Corps. She completed her basic training at Camp McCoy, Wisconsin in the same year. In 1947, the Army and the Air Force separated into separate units. Second Lieutenant Leftenant-Colon elected to transfer to the Air Force. In 1948, while stationed at Lockbourne Air Force Base in Ohio, Leftenant-Colon became the first commissioned African American nurse to be integrated into the Regular Army Nurse Corps. Her admittance into the corps arose, in part, due to the civil rights initiatives of President Harry S. Truman's Executive Order 9981, which established the beginnings of equality in the armed forces.
(Ret) Major Nancy Leftenant-Colon wrote the forward for Stella's Girl: The Autobiography of Captain Evelyn Decker, a World War II and Korean War Veteran. Captain Decker (1915-2008) entered the Army Nurse Corps in 1944, where she began a career that would make her a pioneer as the military under-went changes to reshape the Army. The Army Nurse Corps accepted a small number of African American nurses during World War II. In September 1945, after the war ended, nearly 500 African American nurses served in a corps of 50,000 because of a quota system mandated by the segregated Army during the first years of the war that limited the number of African American enlisted Service-members.
(Ret) Major Nancy Leftenant-Colon in the forward for Captain Decker Major Leftenant-Colon wrote, "The African American women of the Army Nurse Corps selfless service and dedication proved that they had what it takes, not only in war, but in peacetime as well. They had courage. They persevered. Captain Decker's story includes accounts of sadness, death, and success, but most importantly, she shares the efforts of African Americans who serve their county as members of the United States Armed Forces despite the attempts to exclude them."
Leftenant-Colon was born on September 29, 1920, and grew up in Amityville, NY, as one of thirteen (13) children of James Sr. and Eunice Leftenant, whose parents were slaves. From an early age Leftenant-Colon said she wanted to be a nurse to help others. Nancy Leftenant's brother, Sam, served as a Tuskegee Airmen, who was believed to have been killed after a mid-air collision near Austria during World War II.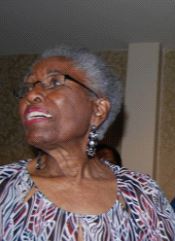 * https://www.af.mil/News/Article-Display/Article/111663/nurse-faced-hurdles-for-military-acceptance/
Leftenant-Colon also served during as a traveling nurse during her Army career, often experienced racism. She noted that while traveling through southern states that she had to take measures to protect herself such as while accessing the restroom and eating facilities. She noted that there was "always fear and discrimination; however, I was determined that it would not deter me."
Thank you for your many contributions to the Army and Air Force Nurse Corps and to our nation's U.S. Armed Forces nationwide. Again, Happy 101st Birthday and may you have many more beautiful years with your beloved family and friends. God's blessings, love, joy, rest, protection, healing, and peace always!
Warmest regards,
Constance A. Burns
Founding President and CEO
Veterans Service Officer
National Association of American Veterans, Inc.
1725 I Street NW Suite 300 (Third Floor)
Washington, DC 20006-2423
Email: info@naavets.org
Website: www.naavets.org click on DONTE TODAY! Thank you.