Story and photos by Dillon Jace-Turner, AFRH Student Volunteer, Bishop McNamara High School
On Saturday April 20, 2019 the Greater Korea Foundation performed at the Armed Forces Retirement Home (AFRH) in the Scott Theater. This music performance was proven to be very amusing and entertaining to the vet eran audience. The performers used a variety of instruments for music along with singing to go along with the vibes of the music.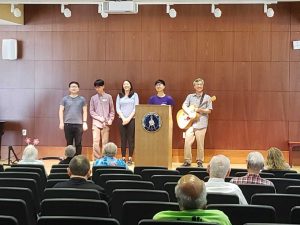 Five singers and musicians did well and succeeded in their mission, which was to show their appreciation to those who have served their country when called upon. They entertained them with a music performance for the approximately twenty veterans who attended.
The Greaten Korea Foundation has been performing at AFRH for a long time and we will continue to appreciate and welcome them into the AFRH. Michelle Misook Won, the founder of this organization tells me more of the backstory for this organization.
"They are a military veteran support group, but their main focus is on Korean War veterans because they need to be noticed and appreciated as much as American veterans. Each performance is different because the performers are different every time, but they show the same Korean tradition," she said.
For almost a year, what keeps the Greater Korea Foundation coming back to AFRH is not just to entertain, but to honor Won's father who had passed. Seeing all of these veterans remind her of her father who had served in the military showing that her love for doing this will never end.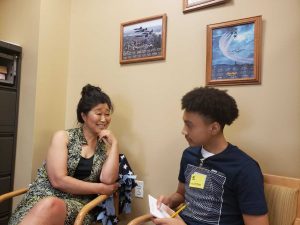 The experience was a great success for the AFRH and the Greaten Korea Foundation overall. Applauses were heard after every performance showing that this was an event the veterans will remember. This was very enjoyable and the veterans know that the young students had taken time to come perform in front of them which means a lot.