June 2016 Testimonies
Now that the rain has stopped, the flowers are in bloom, and the heat is on—the National Association of American Veterans, Inc. is coming alive to you with June testimonies. Although there are only a few, they are nonetheless significant, and NAAV is proud to highlight its continued commitment to supporting our American Veterans and their family members both here in the greater Washington, DC, metropolitan area and around the United States.
NAAV invites you to celebrate our June 2016 testimonies: because of you, many Veterans and their family members' lives were enriched and encouraged, and overall well-being was enhanced. Below are a few highlights that NAAV would like to share with our friends, families, supporters, and all others who still hold on to the belief that some dreams do come true.
---
On April 22, 2016, NAAV and partners MobilityWorks and BraunAbility joined in a special award ceremony celebrating the donation of a motorized assisted minivan to disabled Veteran Charlie Johnson and his loving and caring wife, Lola. Over the past two months, this van has proved to be a beneficial asset to the Johnson family.
Blessings to you Ms. Burns,
I want to send a thank-you note to Matt Swope, Chris Paczak, and Randy Benson about how things are so much better now that we have our new mobility van.
Our new mobility van has really been a great blessing to Charlie and me. It has given us the freedom we needed, and it has made life so much easier. Now I can drive to the VA at a later time, and leave right after Charlie's groups. No more getting home after 4:00 p.m. or 5:00 p.m. Some days even later. Now we are able to take trips out of town, or go to the store. Before, we always had to ask someone to take us. This dream would not have been possible if it were not for your loving and caring hearts. Charlie and I will always be grateful for your support. There are no words to express how we feel. So saying thank you is not enough for this kind donation you have given us.


We also wanted to thank you for the perfect license plate you chose. Charlie said it made him feel special. Here is a picture.
Blessings,
Charlie and Lola Johnson
---
NAAV is still keeping up with Ernest Andrus, who is still running from the West to the East Coast with all his might. June 19 marked a milestone for Ernie. He is scheduled to reach the East Coast by his 93rd birthday this coming August. Below is a short testimony from one of Ernie's fans and supporter who has been following him as he treks along:
June 19, 2016. Father's Day run starts at 6:30 a.m. at 12617 Ashville Highway in Florida, ends at the 3-mile marker on Highway 221 in Georgia, 6.8 miles.
At the end of today's run he will have less than 200 miles to his destination—Brunswick, Georgia. He is wanting to ensure he makes the Atlantic Ocean after he turns 93 . . . which means he has had to "slow" down his runs, so to speak. A few months ago he discovered he was ahead of schedule. Last I read he is wanting to touch the Atlantic Ocean on August 24. This past week he took some time off to surprise his granddaughter at her Marine (Paris Island) boot camp graduation.
Ernie's health has been holding up quite well. He is continuing to get solid support on all legs of his run . . . both from other runners and local law enforcement.
Brady
*Watch Ernie on his most recent interview after crossing the Georgia state line. He is scheduled to set foot at the Atlantic Ocean on August 20th, one day after his 93rd birthday just as promised. Stay with us…https://www.youtube.com/watch?v=Cf0pMW5A_Jk&feature=youtu.be

---
In June 2016 NAAV provided emergency assistance to John Durrant, a Veteran most in need of tires for his car to travel to work in Sumter, South Carolina.
I am very thankful for the emergency assistance received from NAAV, Inc. during my time of great need. —John Durrant of Sumter, South Carolina
---
NAAV paved the way for Melvin Wright, a disabled combat Vietnam War Veteran, to receive a donated riding lawn mower from Art's Lawn Mower Shop in Florissant, Missouri, in June. Melvin's medical condition would not allow him to use a manual lawn mower to cut and maintain his lawn. NAAV was instrumental in helping him maintain his independence.
I cannot believe that I have a riding lawn mower. Thank you!! —Melvin Wright, St. Louis, Missouri
---
NAAV paved the way for Melvin Wright, a disabled combat Vietnam War Veteran, to receive a donated riding lawn mower from Art's Lawn Mower Shop in Florissant, Missouri, in June. Melvin's medical condition would not allow him to use a manual lawn mower to cut and maintain his lawn. NAAV was instrumental in helping him maintain his independence.
I cannot believe that I have a riding lawn mower. Thank you!! —Melvin Wright, St. Louis, Missouri
---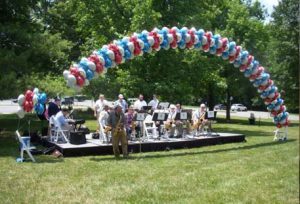 NAAV also provided emergency assistance for over 100 callers seeking resources and referrals for rent, utilities, food, car repair, foreclosure, and home repairs nationwide. NAAV provides monthly assistance to Veterans and their families with VA claims and benefits, and legal, counseling, and housing and employment assistance.
On June 25, 2016, NAAV celebrated the second anniversary of Jazz at the Park hosted by the National Conference Center in Leesburg. The event was a big hit, featuring two wonderful jazz band ensembles, food, wine tasting, kids' games, chef's tour, and much more!
Thank you all for coming out!
NAAV continues to appreciate all your support and prayers as the organization strives to provide a variety of assistance to Veterans and their family members, wounded warriors, and Veteran caregivers.
An April 2016 Testimony
Thy Word is a Lamp Unto My Feet and a Light Unto my Path Psalm 119:105 (KJV)
Here is an old cliché, "April showers bring May flowers." Why is it that we must first endure the rain before embracing the beautiful flowers—or—why does the synchronized spectrum of a rainbow appear so colorfully brilliant in the sky only once the rain has ended?
Life is like that. The book of Isaiah, chapter 61, verses 1–3 (emphasis on verse 3) describes this dichotomy as follows: "The Spirit of the Sovereign LORD is on me, because the LORD has anointed me to proclaim good news to the poor. He has sent me to bind up the brokenhearted, to proclaim freedom for the captives and release from darkness for the prisoners, 2to proclaim the year of the LORD's favor and the day of vengeance of our God, to comfort all who mourn, 3and provide for those who grieve in Zion—to bestow on them a crown of beauty instead of ashes, the oil of joy instead of mourning, and a garment of praise instead of a spirit of despair. They will be called oaks of righteousness, a planting of the LORD for the display of his splendor" (NIV).
This contrasting depiction of life and proclamation is "good news" according to the Word of God. Recall the death and resurrection of Jesus Christ. So, sometimes the rain must fall, but afterward, a pearl of great glory.
We in the Washington metropolitan area have experienced an abundance of rain lately. I hear many people saying or lamenting, when is the sun going to come out . . . where is the sunshine? Well guess what, it's on the way. If we can hang on until the dawn, we will witness the rising sun . . . the clearing of the clouds . . . a brand new day.
The National Association of American Veterans, Inc. welcomes you to a new month as we share with you a month that has passed. This might not be our typical rendition of "April Testimonies," but this IS, yet, an "April Testimony."
You might not have received all you wanted in April, like the floral smell of crisp spring mornings, blades of wet grass popping up ready to blanket the yards of many, or perhaps the confirmation that spring really is just around the corner. But what you did do was witness the passing of an old month with the expectation of a new . . . anticipation of flowers and yearning for the sun. The realization that, well, it wasn't too bad, because you seek the unpredictable tomorrow, while thinking to yourself, "perhaps it will be a better day?" Clinging to desire . . .
But what if it isn't a better day? What if you lose your job or a child, or a spouse, a friend, a set of keys, an idea, maybe a sock, or something else you consider worthy of feeling and hurting over its loss? What happens to the cliché you once believed? We find ourselves left amid the fade . . .
Here is what Langston Hughes supposed in his profound poetic writing "Dream Deferred:"
What happens to a dream deferred?
Does it dry up
Like a raisin in the sun?
Or fester like a sore—
And then run?
Does it stink like rotten meat?
Or crust and sugar over—
like a syrupy sweet?
Maybe it just sags
like a heavy load.
Or does it explode?
April showers might not always bring May flowers. Instead, the showers might simply turn into a continuous downpour of rain, delaying the flowers and other plans of beauty and elation we had hoped or even longed for. The rain as we see it may eventually be the death of our annual tulips or planted garden, or the mere source of their delay.
On the other hand, those April and May rain showers that have graced our landscape lately turn into the source of lush lawns, the replenishment of a moisture-deprived tree, the filling of a well or rising water levels of a drying-up pond, and maybe the suppression of an onslaught of allergies.
The April showers might not have given birth to May flowers, but at least the entertaining and hope of flowers more, or time spent indoors communing with family members, with our children, or a decision to pay a hospital visit to an ailing person, or they might drive us to a deeper commitment and opportunity to sense the Heavenly Father's spirit and comfort us in a time of weariness and need.
Whatever the April showers have been to you, I hope that you are able to see past what's coming down and look beyond the deference, the usual, and the familiar to what else it could be or what else it has been into bigger sea of mature perspective—real life . . . "beauty instead of ashes, strength exchanged for fears, joy in place of mourning, and the culmination of peace from despair."
So look out and cheer up, for the next season's forecast is calling for SUMMER!
NAAV honors and appreciates your support, time, donations, and prayers as we strive to improve the lives of our American Veterans, military servicemen and servicewomen, and their family members. Thank you for joining us on this pathway as we balance life, love, hope, faith, and charity.
Kindly submitted on behalf of NAAV, Inc.
Sjk
An April 2016 Testimony
Media and Publications
His Eye Is on the Sparrow
The Andersons
This is a personal testimony of the tireless effort to serve and support Veterans and Veteran caregivers that is constantly being exhibited by the National Associations of American Veterans, Inc. President and CEO Constance A. Burns. The following is yet another brief example, from Sherri-Jones Kleiner.
In February 2016 my sister and brother-in-law, an Army Veteran, were faced with one of the most difficult and stressful times they have experienced during their 39 years of marriage. Robert Anderson was scheduled to undergo surgery for pancreatic cancer on Friday, February 26, 2016. Not only was this a day of uncertainty, that is, whether or not the surgery would be successful, could the tumor be removed, postoperation complications, and so on, but it was also the birthday of Debra, my sister—his wife.
Debra has been the caregiver for Robert since he was diagnosed with cancer over 14 months ago. Not only was she responsible for managing the household, but she also was scheduling medical appointments and other logistical needs such as making arrangements for two dogs—one that is their own and the other one inherited from my brother, who was also an Army Veteran. Unfortunately, he passed away in February 2014. Prior to that, he requested that his German shepherd remain under the care of Debra, who by the way was also our brother's caregiver for almost 7 months while he was battling brain cancer.
I spoke to Ms. Burns about my sister and brother-in-law's situation, as the surgery was scheduled to be performed outside the VA Hospital; the Fisher House would have set up accommodations for the time covering pre-op and post-op surgery. Instead, the operation would be conducted across the street from the VA Hospital at the Medstar Washington Hospital Center.
The Fisher House is responsible and accountable to Veterans and caregivers being serviced through the VA facility. Notwithstanding, Ms. Burns, through the NAAV, is a resourceful organization and run by an unrelenting audacious President and CEO.
Since 2005, this organization, NAAV, has been committed to serve the needs of Veterans and their family members. Ms. Burns reached out and pulled together her resources to secure a room not just for one, or two, or even three nights, but petitioned for and received a free five-night stay for Debra at the Hamilton Crowne Plaza on 14th and K Streets, NW, Washington, DC.
This act of kindness not only lightened the burden that both Debra and Robert were carrying, as this was one less thing to worry about, but it also afforded her the opportunity to stay in town, close to the hospital where her husband was admitted. Otherwise, travel time would have been over two hours' drive to and from their residence in Orange County, Virginia.
Despite the surgery being performed on Debra's birthday, the most overarching gift was that, although it might have resulted in what was hoped for, Debra received what she and others had prayed for, that is, "God's will be done." Her husband, Sergeant Robert Anderson, was released from surgery, spent two days in the intensive care unit, spent another day with doctors restoring vitals, and went home two days ahead of the room reservations blocked off by the Hamilton Crowne Plaza Hotel.
For those of you [caregivers, spouses, siblings] out there facing a similar situation, trust and believe that God is always in control and His divine interventions and miracles still reach us here on earth. He poured out His grace on Debra, granted mercy to Robert, and found pleasure in His obedient servant, Ms. Burns, as she administered His work through generously giving and serving as a true warrior. Lastly, the Hamilton Crowne Plaza and management staff was an instrument used by faith and did not back away for the sake of obtaining revenue.
So, on behalf of my sister and brother-in-law Army Veteran Robert Anderson, we want to sincerely thank NAAV, Ms. Burns, and the Hamilton Crowne Plaza Sales and Marketing Manager, Mr. Paul Goslin, and Ms. Melanie Matthews with the management staff, for their support and assistance.
Below is a personal note from Debra and Robert Anderson to Ms. Constance A. Burns and the NAAV community of partners:
Greetings, it is so hard to express in words what the heart feels, but I will attempt. My sister, Sherri Jones-Kleiner, has gracefully expressed much of what I feel. God knew from the beginning that this day would come. Sherri was divinely positioned as a volunteer working with Ms. Burns on behalf of American Veterans and caregivers through NAAV. When we learned that my husband would require surgery, and a facility outside the VA would perform it, there was little time to research and arrange accommodations in the DC area.
Expenses for potential lodging there as well as lodging for our pets became another "thing" to stress over. After Sherri shared this with Ms. Burns, in no time she contacted me and events began to follow like a "domino" effect. Ms. Burns did what she said she would do! It was as though she stopped everything to ensure that she worked out my situation without fail. She arranged lodging to ensure I was covered for more time than I expected, mailed Metro pamphlets, information regarding the organization along with additional information regarding Veterans and caregivers. She lifted me in spirit with humbling words and in spiritual regard.
I am so grateful and indebted to her for her kindness and concern in making this situation uneventful. She is truly a professional, remarkable, and compassionate lady. I learned just in the little time we communicated that she puts her "heart and love" in her work. She is a warrior for the Lord and our Veterans and families. Service is what we're called to do; I hope sometime in the future that I can be of service to her. God bless her, and my prayer is that she will be rewarded greatly for all she does "voluntarily." My sincere thanks to my sister, Ms. Burns, Paul Goslin, Ms. Matthews, and all the other unnamed individuals who give from the heart and good of others.
Sincerely,
Debra and Robert Anderson
God bless you and all the others who pour into the mission and ministry in support of Veterans through NAAV. Those of you who volunteer your service, participate as partners and sponsors, as well as those who give financially . . . please know that your labor is not in vain.
Respectfully submitted,
Sherri Jones-Kleiner
NAAV, Inc., Media and Publications