During July and August not only has the temperature been rising, but so have the efforts of the National Association of American Veterans, Inc. in making sure that our Veterans and their family members are staying cool and being provided for with the best this organization can pull from its treasure of resources.
Although the heat may be keeping some folks indoors, others are finding their way outside among the sweat and joy of fellowshipping with one another despite the warmth and humidity.
Topping off a few of the movements NAAV has been involved with in the middle of the hottest months of the summer in the DC metropolitan area are the following:
Presented a riding lawn mower for disabled combat Veteran Melvin Wright of St. Louis, Missouri (

*Read more of their testimony on the NAAV website

)
Processed and provided assistance to 30 Veterans with claims and benefits
Provided legal assistance to 12 Veterans in need of assistance and guidance
Disseminated emergency assistance resources and referrals to over 100 Veterans and their family members during July
Proudly sponsored BBQ for Wounded Warriors and Families at the Walter Reed National Military Medical Center's Building 62, Bethesda, Maryland. There, NAAV assisted with providing free food, children's activities, music, and last but not least distributed free handouts and respite care gift certificates at this August event.
Lastly, NAAV has been committed to tracking the steps of our champion runner Mr. Ernest Andrus, who has been running across the lower portions of our country for several months now to raise awareness and funds toward the redocking of LST 325 back to the grounds on Normandy in France.
Ernie, a World War II Veteran, made a vow to complete his trek by his 93rd birthday this August, and rumor has it that he's a man of his word. Our most recent update on Ernie, who is scheduled to hit the Atlantic Ocean any day now, is this:
On August 1, Ernie and his crew crossed over into Nahunta, Georgia, and decided to stop at the Dairy Queen to finish off the day. Ernie is presumed to be on schedule to achieve his longtime, two-footed goal when he began in San Diego into St. Simmons Island, Georgia. See the photograph below contributed by the Florida Times-Union, Terry Dickson, at Jacksonville.com. To read the full feature of this story go to:
http://jacksonville.com/news/georgia/2016-08-01/story/92-year-old-world-war-ii-vet-last-month-his-run-san-diego-st-simons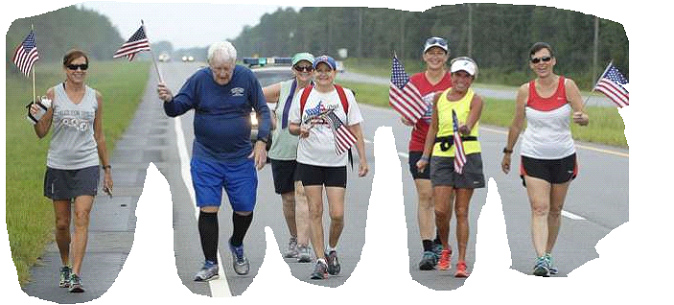 NAAV gives a loud praise and shout out to our supporters, who continue to give and share their time and resources to help NAAV answer its call to the mission. Thank you to each and every one. And for those who have yet to join forces with us, please know that no donation is too small and no task or effort to insignificant. We accept and appreciate your gifts, talents, time, and prayers and look forward to having you join us in giving back to those who gave so much.
Stay cool and seeking opportunities with an open heart and mind.
Sincerely,
NAAV, Inc.
President and CEO
Members of the Board
and Advisory Committee