Over the past five years the National Association of American Veterans, Inc. has been going strong, supporting and providing for the needs of our American Veterans and their family members. Throughout the course of our giving, which could not have happened without the generosity of many contributions to this organization, we have been blessed by the returns of knowing that we are making a difference.
The impact made by NAAV and its supporters has enriched the lives of many Veterans and their family members not only in the Washington, D.C., metropolitan area but throughout the United States. That's a big deal and a great testimony! We are reaching those who gave so much in service of God, country, and others.
Looking back over the past few years, we are reminded and honored to have received acknowledgment of what a difference caring and giving can make that we wanted to post a short compilation from the many hearts behind the scenes, whose faces neither you nor I will ever see, but who have been touched by the aid and mission NAAV has endeavored to organize and execute. By faith, we shall continue to do what we have been called and commissioned to do for our American Veterans.
Ms. Burns, NAAV Staff and Donors this extra-special thank-you note sent to your today holds more appreciation than any words can say, for you are among the nicest people I have ever known, and you'll never be forgotten for the thoughtfulness you've shown. We wanted to let you know how grateful we are for the generosity you have given our family this 2013 Christmas! Your kindness helped made our Christmas extra bright! God bless and thank you!
—Michael and Stephanie Freret, Biloxi, Mississippi
2013: Gift of Giving
NAAV found a sponsor last week (November 21 through 24) to donate a four-night stay at the Four Points by Sheraton including a breakfast meal for Veterans. NAAV paid for three dinner meals and found a church one block from the hotel to provide meals. NAAV coordinated housing assistance with the Department of Veterans Affairs, Community Resource and Referral Center, and the Friendship Place for immediate follow-up.
Ms. Hill attended Ladies' Night at the DC VA Medical Center, seeking support for housing and other assistance at this event. She visited the NAAV Display Table and received an emergency assistance folder and other health information. She stated, "I am so happy I accepted your invitation to attend this event. Thank you so much for helping us that cold night from having to sleep in our car with my six-year-old son."
NAAV sponsored two of its "V" logo wall clocks for a raffle that night at the event, and Ms. Hill was the first winner. Her family now has an apartment that was approved through funds from SSVF for December 2013.
December 2013: VA Claims "Thank You!": Donations That Work
On Thursday, December 5, 2013, the National Association of American Veterans, Inc. donated 28 surplus monitors to U.S. soldiers located at the Soldiers and Family Assistance Center and the Warrior Transition Unit SFAC/WTU station at Fort Belvoir, Virginia. The monitors were sponsored by President and CEO Tony Jimenez of the MicroTech company, located in Vienna, Virginia, on behalf of NAAV.
The televisions will be offered as a door prize during the upcoming Christmas party at the Transition Unit. According to a SFAC/WTU representative, "all of the 28 monitors were claimed and the soldiers were happy to receive them."
October 2014: What a Difference a Rental Truck Can Make
I began seeking assistance from many agencies to no avail. As time grew near to my self-imposed deadline, I began "Googling" nationwide resources. Not too far into my research, I called NAAV and Constance Burns answered. I was feeling a bit forlorn. I told her of my plight and she replied "Well honey, I don't have any funds, I'm hurtin' too," or something close to that. I began to choke up and let the tears roll. Her words were real and motherly, "You can't give up. You got to think outside the box." I know I need to think outside the box, but how do I do that for myself?
She asked me lots of questions, and we began to make phone calls and send e-mails. I told her my plan to use Budget Truck Rental and that I had found a rather large Veteran discount. A discount was not large enough to fund the trip. Constance sent an e-mail to the public relations e-mail at Budget. Within in very little time, a gentleman from the truck rental service called Constance. He's the regional VP of Avis Budget Group and a Vietnam Veteran. He agreed to donate the entire cost of the rental toward my effort. Now that is thinking outside the box! What a blessing.
—D. Olsen, November 2014
December 2014: Widow of a Veteran: In Need of Emergency Assistance
I just want to say thank you for all the things that you done for me, without your help I don't know how me and my family could have made it. There is no words that can explain the way I feel about them. The Lord God Almighty—when no one else is [there] Lord Jesus Christ pulled me through time and time again. But Ms. Constance you gave me the strength to keep my faith to believe when I didn't know where I was going to stay, I didn't know where my children was going to lay their heads, you provided a roof over my head; you also let me know it was possible and to never give up—Don't ever give up! Because there is a solution to every problem and with the Lord and you working together, I now know I can make it.
God truly deserves to wear a crown. He will never leave us, He's everywhere. He gives us strength when there seems to be no way out and He uses Saints like you . . . Beautiful YOU to guide us and direct us as guardian angels on this earth, "Ms. Constance Burn," and you are truly—I believe you are truly one! I just want to say thank you.
I have seen with my own eyes that you and God worked as a team and had victory in my living situation. I have a few more things to get through but I know long as I have the Lord God Almighty on my side and you Ms. Constance . . . Thank you! May God bless your new journey in a mission with helping people like me. Thank you again.
—Chaya Douglas
January 2015: NAAV Inspires Through Its Spiritual Moments Periodic Postings
I was catching up on my reading on NAAV's news page, and I wanted to know when will you start the spiritual reading area? I am looking forward to it. Please let me know. The new moments of meditation reading was great reading as always. It lifts my spirit. I read something from your spiritual awareness page every day. Sometimes my Bible study lessons come from there too. This is a blessing to many people!
February 2015: Affordable Comfort
Ms. Burns, I am writing to thank you and your organization for all of the help, comfort, and material assistance with United Services Automobile Association of San Antonio, Texas, provided me in my need. The cooperation shown by yourself, your organization, and United Services Automobile Association of San Antonio, Texas, was beyond and above.
July 3, 2015: Veteran in Need of Assistance with Gas Payment
Constance, thank you so much! I couldn't believe it when I read that NAAV paid two months of my gas bill! I am so thankful!
—Debbie V
April 2016: NAAV and Partners Honor Veteran with New Mobility Access Van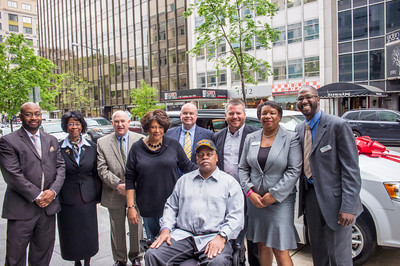 From left to right: Evens Bonny, Vice President and Branch Manager, MT & T Bank and NAAV Board Member; Constance A. Burns, President and CEO of NAAV, Inc.; Randy Benson, Regional Manager of MobilityWorks in Beltsville, MD; Craig Harlow, MobilityWorks; Matt Swope, BraunAbility Director of Sales Eastern United States; Sherry Jones, Mobility Certified Mobility Consultant and Te'tro Martin, Inside Sales Representatives; and Charlie and Lola Johnson, awardees.
On Friday, April 22, 2016, the National Association of American Veterans joined in partnership with BraunAbility and MobilityWorks at a special ceremony to honor a United States Disabled Military Veteran with a 2015 Dodge Grand Caravan SXT, equipped with a Braun XT power side entry.
August 2016: Perseverance Pays Off for a Man on a Mission: "Happy Feet!"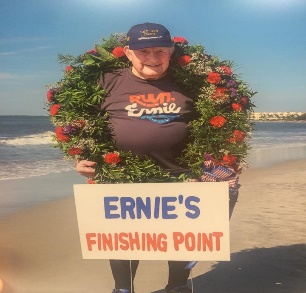 One of our hottest topics was the celebration of Navy Veteran Ernest Andrus as he finished a West to East Coast trek and celebrated his 93rd birthday.
As some of you may recall, NAAV published an article about Mr. Andrus back in October 2015, as he was already into several miles of his trek across America to raise money for a World War ship, II LST325. Ernie set off on foot from San Diego's Pacific in October 2013, determined to make it to the shore of the Atlantic, which he did on August 20, 2016. At a pace of 21.49, 6.13 miles a day, three days a week, an almost three-year ended journey ended when the last leg of his memorial trek brought him to St. Island, Georgia. The picture below shows Ernie's foot touching the waters of the Atlantic Ocean.
Photo by Saint Simons Photography.com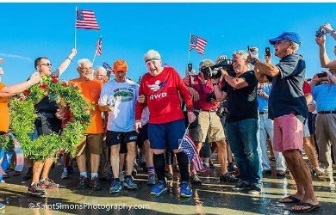 January 2017: NAAV Continues to Serve
Dear Mrs. Burns,
My family wanted to take this opportunity to personally thank you and your organization National Association of American Veterans Inc., (NAAV). The financial assistance and moral support your agency has provided to my family over the last four years has helped us tremendously! My family consists of my wife and I and five children. During the last four years we lived in a small rural town named Marble Falls, TX. My wife and I were gainfully employed; however, our income combined was not enough to support our family. Therefore, my family experienced financial hardship consistently. Fortunately, with the generous and compassionate support from you (Mrs. Burns) and your organization we were able to maintain our basic needs. Without your assistance, we wouldn't have been able to find the information and assistance that my family has benefited from which assisted us in tremendous ways.
—Sincerely, The Jerome Family
2017 Continues: We keep moving . . . We keep giving and serving
In March NAAV provide home mortgage support for Avery Donald of Arkansas through Farmer's and Merchants Bank.
We provided assistance for homeless Veteran John Pike of Tampa, Florida, Gus Willard of Homestead, Florida, and William Cummings of Oakland, California.
We responded to over 50 calls for emergency assistance, resources, and referrals in January and February.
Thank You All for Caring!
NAAV honors and appreciates your support, time, donations, and prayers as we strive to improve the lives of our American Veterans, military servicemen and servicewomen, and their family members. Thank you for joining us on this journey as we strive to balance life, love, hope, faith, and charity.
Kindly submitted on behalf of NAAV, Inc.
June 2017