On Wednesday, January 8, 2020, the National Association of American Veterans, Inc. (NAAV) president, chief executive officer and veterans' service officer Constance A. Burns received one hundred and fifty-eight (158) clothing items including (1) pair of shoes; (23) pants; (8) sweaters; (1) belt; (110) shirts; (1) vest; (2) suit tops; (3) pair of cuff links; and (2) pair of socks. The market value of Charles Tyrwhitt is $2,138.78. To date, NAAV have received (11) large boxes of clothing from Charles Tyrwhitt Men's Store in Tysons Corner, Virginia. Charles Tyrwhitt has 25 stores worldwide, of which 12 stores are in the United States.
Meanwhile, NAAV, Inc. received sixty-nine (69) hand-knitted winter caps donated by Linda S. Cunningham, Founder of Sharing Love of Indianapolis, Indiana to give to homeless Veterans residing in the greater Washington metropolitan area. The market value of gift is $1,380. All donations to NAAV, Inc. are tax deductible to the fullest extent of federal and local law.
On Thursday, January 30, 2020, NAAV, Inc. president and chief executive officer presented in-kind donation including men's shirts, thermal bags, and hand knitted winter caps to homeless Veterans residing at the Central Union Mission, Washington, DC. The Central Union Mission was established a hundred and thirty-five years ago. The heart of the Mission "is serving the hidden homeless and hungry in our city-one life at a time." "Thank you NAAV for the beautiful hand knotted winter caps donated by Sharing Love of Indianapolis, IN for homeless Veterans in the greater Washington metropolitan area." Central Union Mission Residents, Washington, DC. "Thank you for the shirts and winter caps." Johnny Ferguson and Paul Singletary, Central Union Mission, Washington, DC
Show images sent to you here … sent in three separate emails to the Support Team for placement within this document.
NAAV is a 501 (c) (3) nonprofit organization established in 2005 and incorporated in 2006 to support severely injured Service men and women, disabled Veterans, and their caregivers nationwide most in need. NAAV provides emergency assistance referrals, counseling referrals, legal, respite care, employment, housing and claims and benefits assistance to our Service members and Veterans.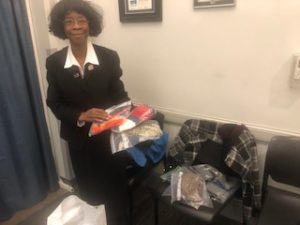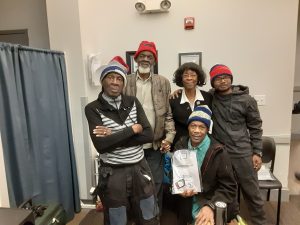 Your support would mean we can continue to provide needed support and assistance to the over 20,000 Veterans and their families that we serve each year. We are providing links to two videos that share more about the work we support. The first Video is of our Combined Federal Campaign video for 2019 https://www.youtube.com/watch?time_continue=2&v=bAeO9eo7_J0 and the second video features NAAV's Board Member Alvin Shell, U.S. Army Veteran (Retired) and Chief Security for the Bureau of Engraving and Printing in Washington, DC, who was chosen by the Combined Federal Campaign to highlight how important it is to give to the Combined Federal Campaign (CFC), https://cfcnca.org/campaign-video.
Can we count on your one-time, monthly, quarterly contribution or to come alongside us as a NAAV
Partner? If possible, please contact us at:
National Association of American Veterans, Inc.
Attention: Chief Executive Officer
P.O. Box 6865, Washington, DC 20020-0565
www.naavets.org click on DONATE TODAY!
Office: (202) 465-3296; Mobile: (202) 355-3879
E-mail: info@naavets.org
Please take a few minutes today or over the weekend to think about what you can do to help our military families in 2020 and beyond. It's because of you-our volunteers, donors, and partners that over 20,000 families across this nation received guidance, directions, resources, and referrals in 2019.
Your generosity, not only throughout the holidays but the entire year, reached every family that came through our doors seeking immediate help. Thank you for your financial support!
We are deeply grateful,
Constance A. Burns
President and CEO
Veterans Service Officer
Chair, Board of Directors
National Association of American Veterans, Inc.