"My little children, let us not love in word, neither in tongue, but in deed and in truth" 
January and February 2018 Testimonies
Happy New Year of peace, joy, and love! The National Association of American Veterans (NAAV) is stepping into a new year of renewed hope and honor to our American Veterans and their family members.
Kicking off the New Year 2018, NAAV proudly took part in the presentation of a new car for a much needed female WWII veteran residing in Wisconsin. Kayser "Ford" Automotive presented the car to Mrs. Adeline Bouchard on January 17, 2018.
Below is a message translated by NAAV from a video recorded voice message left by Mrs. Bouchard after receiving her new car.
"Mr. Goodman, this is Adeline Bouchard. I want to thank you for the generosity of your heart—for your graciousness in allowing me to use this vehicle. It was a privilege to have talked to you. You don't know how grateful I am to you—for this car. Between you and Ms. Burns I had been turned down by many—many firms that collect cars for veterans. In reality, there is no such thing as a car for anybody who needs it, because they all turn it into cash and use it for themselves. But, I wish to again thank you, and thank you, and thank you. I am very grateful to you. God Bless you."  
A happy day as Mrs. Adeline Bouchard signs for her new car. Blessed and over joyed: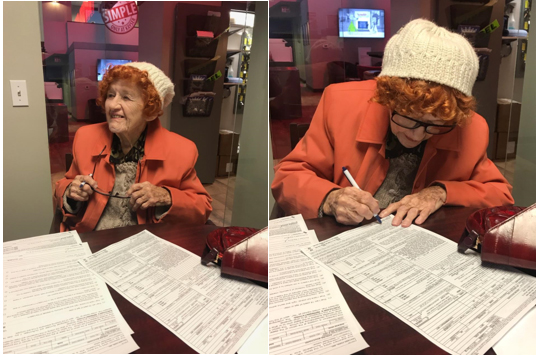 The funds and proceeds towards the purchase of the new car was made possible by NAAV CEO and President, Constance Burns in conjunction with Mr. Daniel Goodman, President of Special Kid Fund, Inc., and Magic Mobility based in New Jersey. This partnership was a major blessing in fulfilling a necessary need.
So often those who have an abundance of equipment, devices, and abilities at time consciously or sub-consciously take these things for granted and just assume they will be there—working and operable—for us when we need them. But for others, some of those simple things we take for granted do not come so easily. However, when the hand of God extends and sets down a gift it's like a shooting star lighting up the night sky for a lost and weary traveler. What a difference this car has made. Those of us who have such material goods at our disposal should never cease to give thanks.
Sheer elation as Adeline stands beside her new car: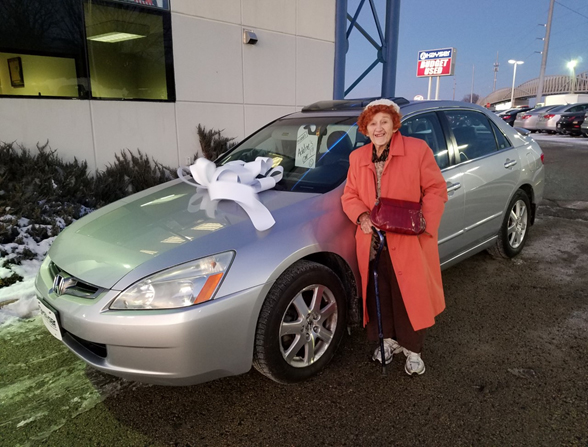 NAAV appreciates all of you have been a part of the gifts of giving thus far this year!
A note from Joel Duensing of Kayser Ford Wisconsin thanking both NAAV president, Constance Burns and Magic Mobility's Daniel Goodman for their assistance and effort in helping Mrs. Bouchard acquire her new car:
"Hello, thank you both for all your help with getting Adeline a car! Without you, this could not have happened!"
Relief comes in the form of an easy lift! NAAV reports more great news concerning a new electronic Bruno Stairlift chair was installed in the home of Ms. Alva Brown of East Orange, New Jersey. This stairlift and new recliner chair changed the function of what Mrs. Bryan has been able to do and enhanced how she is now able to get around.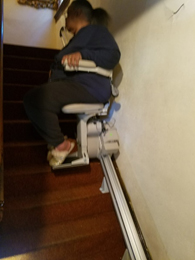 This chair not only serves in giving Mrs. Bryan a weightless lift up the stairs, but it has also given her a lifted release in life. It has taken a load off some of her chores and eased some of the pain that climbing stairs used to cause.
We invite you to visit the NAAV website at www.naavets.org to see our added feature video of Mrs. Bryan's debut testimonial use of her new stairlift. *See tab name "video."
NAAV participated in the 24th Annual Winterhaven Homeless Stand Down on Saturday, January 27, 2018, along with various other agencies and vendors including HUD and a special guest participation from the Secretary of VA.


Pictured above: "Honorable Pamela H .Patenaude, HUD, including the Honorable David J. Shulkin, Secretary of Veterans Affairs (VA), The American Legion Executive Director Verna Jones, and Marvin Turner, Director of the HUD District of Columbia Office/National Capital Area Office." Second photo shows NAAV, CEO and president assisting a veteran with claims and benefits.
NAAV gives a shout out to other testimonies of services provided during the months of January and February:
William Craig and Cyndi Gardner of MS with deposit, rent, moving expenses
Ronald Mbiad of Las Vegas, NV help with rent and utilities
Melvin and Edith Wright of St. Louis, MO help with utilities
In addition through the support of Bob's Discount Furniture Charitable Foundation, NAAV received donations of seven (7) Recliner Chairs with heat, massage and intensity
features. Grateful, through the generosity of donations totaling over $8,000, during January and February, NAAV was able to provide for seven (7), and award five (5) veterans with equipment, resources and assistance.
NAAV President and Chief Executive Officer Constance A. Burns attended the 4th Annual Women Veteran United Committee, Inc. (WVUCI) on February 7, 2018, held at the Rayburn House Office Building in Washington, DC, owing to the support of women Veterans nationwide.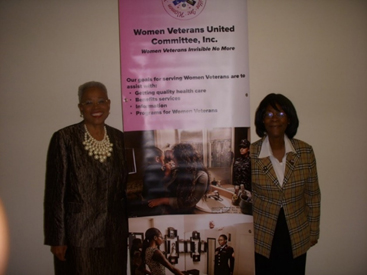 Overall, the WVUCI addressed issues concerning women Veterans as well as support for how Military Sexual Trauma dilemma needs to be more clearly addressed for male and female Veterans.
Happy new beginnings on behalf of NAAV as spring is just around the corner! We thank you all for participating and partnering with this organization and look forward to your continued support as we forge along the path of providing for our American Veterans and their family members—honored to "give back to those who gave [and are still giving] so much!"
Kind regards,
o/b/o Constance C. Burns
CEO & President
NAAV, Inc.