In 1976, President Gerald Ford officially proclaimed February as African American History Month, to publicly honor and recognize the accomplishments of Black Americans in every area of endeavor throughout American history. This month the Joint Base Myer-Henderson Black History Month Award Presentation 2021 awarded four African Americans one included Constance A. Burns the founding president, chief executive officer and veterans' service officer for the National Association of American Veterans, Inc. (NAAV) established in 2005 and incorporated in 2006 to provide emergency assistance referrals, financial literacy, rental and utilities assistance, counseling referrals, respite care, legal, employment, and housing assistance to severely injured Servicemembers, disabled Veterans and their caregivers and family members, especially single parents injured in the Middle East War. Ultimately, the mission of NAAV is to serve as a comprehensive nonprofit organization that values the honorable and selfless service of our nation's Servicemembers and disabled Veterans.
NAAV is committed to assisting Servicemembers and disabled Veterans and their family members, particularly severely wounded warriors and single parent Servicemembers and Veterans, by helping access their benefits; improving communications and coordination with the VA; and collaborating with the VA and other veterans' groups, health agencies, medical professional organizations, educational organizations, and the public in support of Servicemembers, Veterans, their families, and military caregivers.
With the support of our partners and sponsors mean we can continue to provide needed support and assistance to the over 2 million Veterans and their families that we serve each year.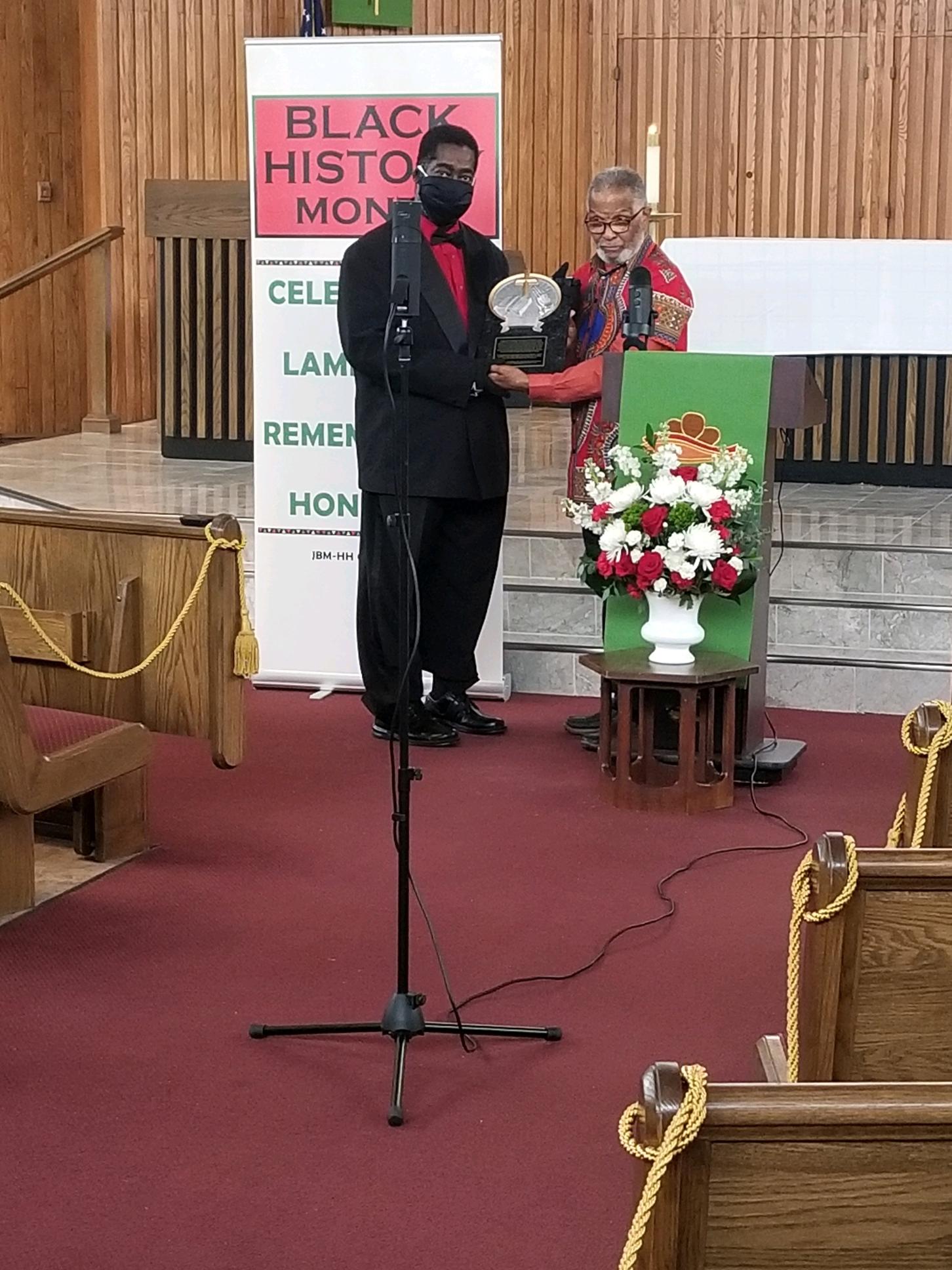 L/R Roy L. Croom, Environmental Protection Specialist, Fort Myer, Virginia and member of NAAV Board of Directors; Brother Edgar Brookins, Chairman of the Black History Committee for the Joint Base Myer-Henderson Hall Gospel Service 2021 Black History Month Celebration. The theme for this year's Black History Month Award Presentation is "Black Family Representation, Identity, and Diversity."
Other attendees included: Chaplain (Major) Bryant Casteel, U.S. Army, Pastor. The Sunday, February 14, 2021, 12:30 p.m. Fort Myer, Virginia sermon was given by Chaplain (Colonel) Myrtle Bowen, Air National Guard Chaplain. Colonel Myrtle Bowen is the Air National Guard Assistant to the Command Chaplain, Africa Command, Kelley Barracks, Stuttgart, Germany effective May 1, 2018. In this role, Kelley Barracks advises the Command Chaplain and the Command Chaplain's staff on all National Guard matters.
About Awardee:
Ms. Burns is an educator, historian, author, professional meeting planner, trainer, program analyst and manager, and veterans' service officer, with more than 25 years of experience working for the private industries, federal government, nonprofit organizations, and as a consultant. Ms. Burns served as advisor for the National World War II Reunion, D-Day to France, and A Salute Parade to WWII Veterans in May 2004. Most recently, she served as advisor to the co-chairs for the President's Commission of Care of America's Returning Wounded Warriors and the Mental Health Task Force for Post-Traumatic Stress Disorder in 2007 in support of our nation's Servicemembers and combat Veterans. She managed, researched, and authored major parts of three books namely the 2d Ranger Infantry Company's history (2009), the Autobiography of Captain Evelyn Decker (2018), and the Quick Series Guide to Healthy Caregiving in (2008). She is also the sponsor of several documentaries about African Americans in military history.
Since 1990, she has also served as a volunteer researcher for the National Museum of Natural History and docent at the National Museum of American History at the Smithsonian Institution.
At the national level, in 1994 she appeared in the Two Thousand American Women in recognition of past achievement and outstanding service to the community, state and nation. In 1996, she was awarded the Certificate of Special Congressional Recognition for outstanding and invaluable services to the community. Since 1995, she also served on the Research Board of Advisors for the American Biographical Institute. Since 1980, she has published about history and women's issues. She is author of several articles in the "Encyclopedia of African American Education" (Greenwood Press, 1996). NAAV is one of the following partners of the Veterans History Project recognized in Congress.
Ms. Burns presented at several forums and conferences about the challenges of Veterans of the wars in Afghanistan and Iraq and prior wars, and their dependents. In addition, Ms. Burns was honored and recognized by the National Association of Professional Women in May 2010-2011 among outstanding women business professionals and entrepreneurs. In 2011, Ms. Burns received recognition for her recommendations in support of military caregivers as an advisor for the co-chairs of the President's Commission for the Care of America's Returning Wounded Warriors in 2007. These recommendations became a bill in Congress and in May 2010 was signed into law by President Barack Obama. Ms. Burns was again honored by First Lady Michelle Obama, Dr. Jill Biden at the Vice President's Home on Veterans Day in 2015 in recognition of her support for military families nationwide and in the same year Ms. Burns received a Congressional Award for her work through NAAV for the Homeless Veterans nationwide and in June 2016 she was honored by the Veterans of Foreign Wars of the United States with the "Commitment to Service Award" at their 83rd Convention held in Arlington, Virginia. In September 2016, she was presented with the "Certificate of Appreciation Award" by the Director of the DC VA Medical Center in support of its mission and vision for our nation's Veterans and their family members.
Making a Difference
NAAV works with other nonprofits organizations to provide grants to support those Servicemembers and combat Veterans in financial need, such as help with rent, utilities, and transportation of medical reasons. Currently, NAAV partners with Operation First Response, VA Medical Centers, Operation Home Front, TracFone Wireless, Inc., Home Depot, Veterans Upward Bound Program of Prince George's County, DC Office of Veterans Affairs, Veterans of Foreign Wars, Vietnam Veterans of America, Paralyzed Veterans of American, Military Orders of the World Wars, Food Lion, Bobs Discount Furniture Store Foundation, Multiview, Fisher Houses and other organizations nationwide. For more information about NAAV, visit www.naavets.org.