NAAV and Special Kids Fund MagicMobility Foundation and MobilityWorks Award Vans to Veterans
The National Association of American Veterans has two recent success stories to share with you. Through a partnership with an organization led by CEO Daniel Goodman called "Special Kids Fund's MagicMobility," a program that provides donated handicap vans to Veterans with disabilities. NAAV played a pivotal role by contacting Mr. Goodman and seeking out potential Veteran candidates who would eventually be awarded a vehicle through this wonderful foundation.
Most of us could not function without the use of our vehicles. Although public transportation, like buses, trains, and taxis or Uber, is all around us, having and relying on our personal vehicles is essential to our daily lives.
For a disabled Veteran or a Veteran caregiver, having the proper form of transportation is not always possible or conveniently accessible. Many of those Veterans obtain transportation through Veteran service programs, other family members and friends, who work through arduous scheduling to make appointments and necessary mobility functions happen. This is not always a smooth or timely task.
Many constraints and restraints are unfortunately imposed—not due to lack of consideration or care, but simply because these types of arrangements make independence difficult. Instead, Veterans and their family members are at the mercy of depending on someone other than themselves at times when "out-of-the blue" situations inevitably arise.
However, the following testimonies have joy, praise, and an abundance of gratitude sprinkled all throughout its gift of receipt. The two thankful candidates, who recently received Chrysler Town and Country and Dodge Caravan Mobility Vans as pictured below from the Special Kids Fund's MagicMobility and MobilityWorks, agreed to share a few words of how being gifted with these vehicles has supported and enriched their lives. These vans accommodates wheelchair and other mobility challenges.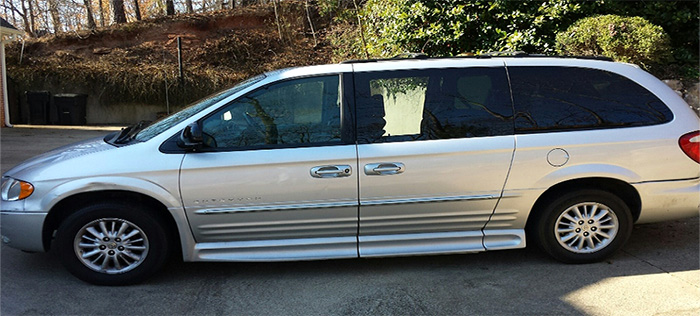 The second van, a 2015 Dodge Grand Caravan SXT equipped with Braun XT power side entry, was presented to Charlie and Lola Johnson at a ceremony held on April 22, 2016, at the National Corporate Office of NAAV in Washington, D.C. (see full story on the NAAV website "Organization's News tab").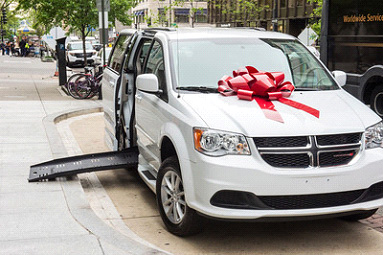 Messages from Margaret Tarvar and her brother Julius Connor, commemorating their recently donated van, and Charles and Lola Johnson also express their sincere gratitude and share joy over what will prove to be an uplifting experience and release from a heavy load from inefficient transportation to the freedom to come and go—taking care of both medical and personal appointments, errands, and a little bit of pleasure, which both families undoubtedly deserve.
Several years ago, Julius A. Conner had a stroke. As a result, he has problems standing and walking for extended periods of time. He uses a walker, cane, and powered wheelchair. Julius does not have his own transportation and mainly uses public transportation for travel, or he hires someone to take him to his appointments. This really is a problem on days when the weather is bad. I am his sister and assist him with personal matters. Julius lives in Atlanta and I live in Ellenwood, Georgia. The distance between the two cities is about an hour travel time when the traffic is good.
Howard Slay, Veterans Claims and Appeals Officer 2 from the Georgia Department of Veterans Service, recommended Julius for a handicapped accessible van that was being donated by Mrs. Margaret Bondurant. We were so excited. What an unexpected blessing for Julius. This would solve so many problems. After completing all the necessary documents, the exchange and transfer of the handicapped accessible van was made to Julius.
The exchange and transfer of the van was made. Special thanks to the following: Betsy and Jim Moreland, Mrs. Bondurant's daughter and son-in-law, for handling the logistics for the actual transfer. Mr. Daniel Goodman and Special Kids Funds, Inc. for implementing the exchange and transfer of Veteran of the donated van. Ms. Constance Burns, National Association of American Veterans, Inc., for her assistance in implementing the exchange.
Blessings to you, Ms. Burns,
First, Charlie and I would like to say thank you all so much for all of your hard and continuous dedication. We know that this was not an easy task. We appreciate all of the corporate partners who made this donation possible. We know we are truly blessed. To God be the glory. If it was not for him, this would not be possible. Ms. Burns, you have always told me to trust God and continue to pray. If there's one thing we do know, is God will answer prays. It may not be when you think you need it, but God will answer your prayer in His time.
Have a blessed evening and get lots of rest after all you will be at the VA in the morning. Lola
NAAV is pleased to announce that without its partnering with Mr. Goodman's foundation, the opportunity to provide critical transportation needs to Veteran families would not have been possible. Daniel Goodman is excited for the privilege to be involved with this gift and replied in a message to Constance Burns, CEO and President of NAAV, that it's "Such a good feeling that we are able to get these veterans mobility!"
This is what positive support and teamwork can do. Opportunities for Veterans and their family members are not always found on scale of this magnitude, although other areas of assistance continue daily and cover beneficial and life-altering results such as temporary and permanent housing, home repairs, utility payments, resource material, administrative help, and legal assistance, among other requests. The independence that comes with being furnished with a vehicle—not just any vehicle—but a service vehicle equipped with special features to aid those with motor and physical disabilities is a tremendous feat and testament to what partnering, monetary, and caring commitments create.
NAAV is thankful to all who support this organization and ask that you continue to support our American Veterans and their family members through your donations, sponsorship, partnership, volunteer support, and prayers, while the organization through the tireless effort of our president and CEO seeks ways to fulfill the needs for hundreds of Veteran families who reach out daily for assistance. It is an honor and blessing to be able to serve those who gave so much bravely and sacrificially in service to us and our country.
Sincere blessings,
NAAV, Inc.