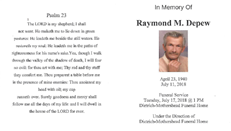 To anyone who reads this, this is about Constance A. Burns, the founder of the National Association of American Veterans, Inc. (NAAV), established in 2005 to help Veterans and their caregivers and family members nationwide. My husband, Raymond M. Depew, is a Veteran of the Vietnam War who passed away on July 11, 2018, after more than two years of hospice. I struggled a lot during these hardest times and years in every area as a spouse and caregiver. My mental health and physical strength had weakened, including our financial situation that stretched us to the maximum in every area of our relationship. We were not in a good place, and we did not feel any hope at all.

However, Constance Burns, representing NAAV, helped me and Raymond with emergency assistance funds during these difficult times, and even after my husband passed away in July 2018. When I needed someone to talk to, she was there to listen to me and give her words of encouragement.
She has always answered my calls and gave me resources from other support groups in my local area. She listened to me, gave me words of encouragement and hope from our LORD God from His Word in the Bible. This meant a lot me, especially when I did not get the support that I was seeking from anyone else.
The National Association of American Veterans, Inc. paid for my property taxes (months behind) and utilities bills, and sponsored a new washer/dryer, waterline repairs, spiritual wellness materials, and books, food and respite care assistance.
NAAV went above and beyond my expectations, I expected less and NAAV did more. It gave us financial and stress relief and improved our quality of life and made it manageable during my husband's days in hospice care this year.
Without the support and assistance of NAAV and its president, Ms. Burns, none of this would have been possible. She is truly a blessing from God.
—Sandra Depew, Festus, Missouri, July 25, 2018