Next Steps ~ Spring into Bee-ing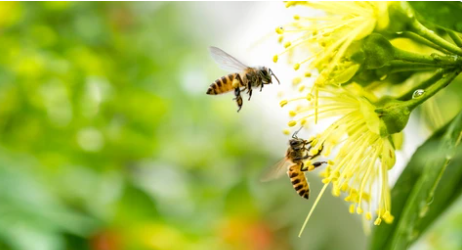 To Bee or Not to Be Kind…
In early spring, as the outdoor temperatures start to rise, typically 61°F, bees will begin forage for nectar and pollen; however, too much rain will keep them away and slow down the pollination process. For that reason, early spring can be a trying time for most honeybees' colonies.2 Even still, spring is an exciting time for not only bees, but also beekeepers because by the time late summer rolls around, signs of flowing sweet honey—as the goal—will appear and produce. And just like that, kindness can flow from a heart of love. One act, [Be]gets another. (See more about Bees in the NAAV's 2nd Quarter Newsletter).
Opening with prayer and Beatitudes – Dear Heavenly Father, we thank you for this day and the seasons you have bestowed Your grace and mercy. Our lives are in Your hands. All creatures great and small. Help us to continue to recognize and care for those less fortunate and create in us all a heart of kindness, joy for today, and hope for tomorrow as we humbly pray in Jesus' precious name. Amen…
"Blessed are merciful for they shall be shown mercy… and, blessed are the meek /or/ humble for they shall inherit the earth." (*For full Beatitudes see Matthew 5:3-12).
Welcome to the National Association of American Veterans, early spring/summer testimonies. We hope you will [be] as excited as we are to share in all the buzz around NAAV's Veteran resources and services provided to our Nation's Veterans and their family members following a not-so-bad winter season.
NAAV's Spring/summer testimony is here to shine the light on how kindness can and has gone a long way. [Be]because of you, NAAV can do what we do.
At the tip of spring, NAAV was active forging its wings of kindness to our Veterans, servicemembers and their families:
April

showers fell in kind acts of partnerships to help a Veteran family. In short, here is her follow up testimony:
Good Morning,
We had two appointments this weekend with churches in the neighborhood
and one contributor gave another $200 dollars toward the balance and the
other will have a meeting with their board and get back with us.
Thank you for caring and following up.
-Sharon
NAAV followed through to support a family in need of housing assistance:
"Thank you NAAV, Inc. for assistance with housing for me and my three
daughters residing in Vermont. We have been homeless for over two years
and we are seeking your assistance in locating a house and/or trailer home
as soon as possible. Thank you, NAAV for contacting Jerry Stock at
Remax for housing support in Vermont and New Hampshire area." -Dennis and
Family, Retired U.S. Navy Veteran, White River Junction, Vermont
May[be]

May

felt a little slow, but NAAV's kindness showed up again in the form of financial assistance to Sharon, the spouse of Medgar Gage, U.S. Army Veteran of the Gulf War, Richmond, Virginia.
Sharon's financial care payment was provided towards utilities to the City of Richmond Department of Public Utilities during May for over $200. This payment ensured that their utilities would not be turned off.
NAAV followed up with advice on how to work out a new payment plan to keep the Gages in good standing.
May's features:

NAAV and partner Bob's Discount Furniture help share an act of kindness by serving the comforts of home [

Be] full of gratitude

:
Hello Ms. Burns,

Thank you so much for the beautiful bed. It has completed the space wonderfully and is extremely comfortable. The whole Bobs Furniture team was extremely helpful. Thank you again for this blessing. -Sincerely, S. Cunningham, Indiana

Thank you, Bob's Discount Furniture Store Foundation, for giving grants
to the National Association of American Veterans. Charlie and I want to
thank Constance Burns, President, and CEO of the nonprofit
organization, for selecting us as one of the candidates to receive a
grant. We were incredibly surprised to learn that we had been selected. There were
so many things needed in our home that we had to really think what was
needed first. We were filled with joy and excitement, then started
searching Bob's website. Finally, we decided on something and called the
store to see if it was there, and it was. It was beautiful and
comfortable. We spoke to Ms. Burns and informed her of our selection.
The next thing we were told, was that it would be here on the 17th of
May 2023.

The National Association of American Veterans are not just nationwide,
but internationally also. They support Veterans and Caregivers in
multiple ways. They need everyone's support to continue to help us.
Please donate financially, or become a partner, you want regret it.
There is a small amount that goes towards administration cost.
Everything else goes directly to those veterans and caregivers most
in need. For example, the comfortable chair we received: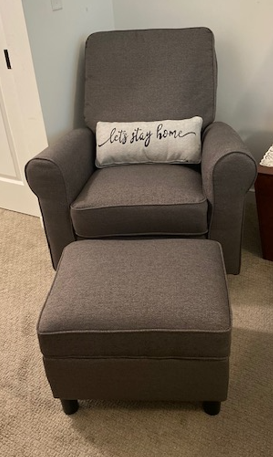 No one in the organization receives a salary, they are all volunteers. So please open your heart and give. All donations are tax deductible. NAAV, Inc. is a 501 (c) (3) nonprofit veterans' service organization. Again, we want to say thank you both for
your special gift." — Charlie and Lola Johnson, Glenn Dale, Maryland
…

And,

June

could not have come too soon as we sprang into the summer's thunderstorms and humid temperatures, but relief was found in the form of an array of resources provided to help secure the needs, resources, and assistance to Veterans suffering with

depression or other emotional trauma, like Ms. Gage, a single parent veteran suffering from Post-Traumatic Depression Disorder (PTSD).
Ms. Gage expressed her appreciation in a brief note which read, "Thank you NAAV, Inc. for being here for me and my ten-year-old son. Thank you for getting my car out of re-procession this year." It is a tremendous help. God bless you!"
NAAV ensures the lights stay on

:

[Be] the change!
"Thanks, NAAV, Inc. for ensuring that my utilities stayed on in July
2023 and also securing support from my Utilities Company in Orlando,
Florida. Your financial support is appreciated!" – Leila
Murray, Widow of Navy Veteran, Orlando, FL
…And then there was, Army National Guardsmen Jasmine Jenkins and her family, who is serving as a carpentry & masonry specialist, was caught in a situation of disbelief.
Here is the back story, Jasmine is 21-year-old and the mother of a three-year-old little girl. In her words:
"I joined the Army in September 2022 during war time and received a war time ribbon after I completed my training at Fort Jackson in Columbia, SC. I recently came home from AIT in Gulfport, Mississippi on March 11 and it has been hard looking for stable employment in my field. I have been working at a temporary service job, and nothing seemed to stick. I kept getting further behind in my bills and left with no job again. One day I came home and saw a "Notice of Lease Termination" in my door. I contacted our new landlord and explained that I am in the Army and that I was expecting money soon, but he stated that they were going to continue with the eviction process and let the judge determine the rest. I have tried reaching out to all the veteran assistance programs my unit could find and so far, I have been able to only produce $500. I am currently in debt over $2k in overdue rent and $400 in utilities. I am looking for any assistance I can get."
So, you see, these are true stories. These are real people that NAAV, through your support and financial assistance, can help and relieve stressful situations. Can you imagine, a young mother, with a young child, who is making the sacrifice to serve our country finding herself and family in need of the basics and unable to acquire the assistance she needs to put her and her family's mind at peace. But for NAAV, who came along side this young mother during the month of June spreading kindness, like a bee to a flower, pollinating in hopes of future beauty and growth.
The sweet nectar of kindness spreads and flavors those it touches. Thank you for being a part of our supply. We look forward to more fruitful days this summary by filling the air with more peace, love, and joy.
Closing verse from Psalm 9 – God has already done great things for us.
"I will give thanks to you, Lord, with all my heart; I will tell of all your wonderful deeds, I will be glad and rejoice in you; I will sing the praises of your name, O Most High." (Psalm 9:1-2)
For more prayers and scripture, please visit NAAV website, Spiritual Wellness tab. Blessings!
Repeat: Message from NAAV CEO and President~
Greetings from the National Association of American Veterans, Inc. (NAAV)
In the last year alone, through caring friends like you, more than 15,000 Veterans from across this nation contacted NAAV's corporate office for our listing of emergency financial aid resources and referrals. Hundreds have given online contributions via NAAV's website and US mail. Caregivers of Veterans in over 1,000 households have been equipped to help their loved ones who served in the wars in the Middle East and prior wars to a resilient quality of life.
Can NAAV count on your monthly Support?
You can send your donation payable to: NAAV, Inc., c/o Chief Executive Officer
1725 I Street, NW Suite 300 (Third Floor), Washington, DC 20006-2423
Or you may donate online at www.naavets.org click on (donate today). If you have questions, we can be reached at (202) 465-3296 or email: info@naavets.org. Your donation is appreciated. See attached page 6 to send to your friends and business associates on behalf of NAAV, Inc. Thanks in advance for your continued support and professional assistance!

Be Quick Bee Trivia

–

What do bees have in common with humans and how are

bees

considered "humble?" Answer:

Bees

pollinate almost half (one-third) of the food we eat and are dying at an unprecedented rate because of their sacrifice.

3

Bees

are one of our most important pollinators, their honey and their wax are an essential part of biodiversity thus aiding in our [human [

be

]ings survival. But did you also know, these small insects can also be at a disadvantage because of some of the careless or hazards we may not recognize: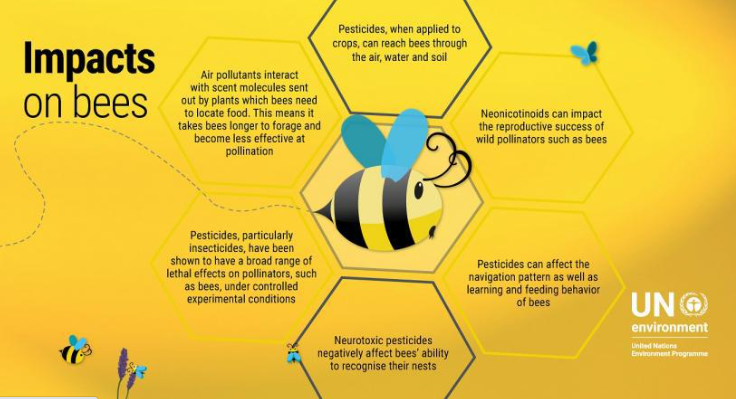 [BE] on the lookout for the upcoming 2023 CFC Campaign. This year's theme is: "GIVE HAPPY" [Be]ginning on September 1, 2023-January 15, 2024… Here is our sneak peek for starters: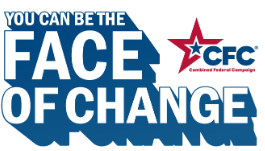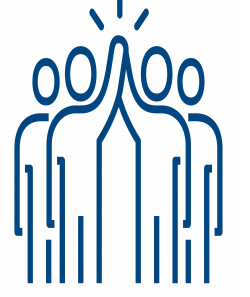 NAAV's CFC number is 85065 "Caring About Those Who Served."
So, to our friends, family, and partners, let us make it a point to look out for each other, as one species to another! Thank you for [BE]ing kind and humble as a Bee. Although there were only a few testimonial references this 2nd Quarter, NAAV was not short in its constant giving of advice, sharing resources, answering calls, and petitioning for our Veteran members.
Enjoy your summer and remember to [BE] kind to others as a calling from God… It does and will come back to you in one form or another.
Kindest regards,
Constance A. Burns
Constance A. Burns
Founder, President and CEO
Chair, Board of Directors
National Association of American Veterans
Washington, DC 20006