On October 11, 2017, the National Association of American Veterans, Inc. and its partner PA AVE Village East of Washington, DC, sponsored a small group of seniors, caregivers of Veterans, and widows of deceased Veterans on a field trip to the historic Jamestown settlement in Virginia for a tour followed by lunch at the Red Hot and Blue Restaurant in Williamsburg, Virginia, and return to DC.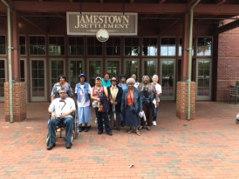 The group saw a 24-minute documentary about the history of Jamestown. The group learned that the Jamestown settlement in the Colony of Virginia was the first permanent English settlement in the Americas. It was established by the Virginia Company of London as "James Fort" on May 4, 1607, and served as the capital of the colony of Virginia for eighty-three years, from 1616 until 1699.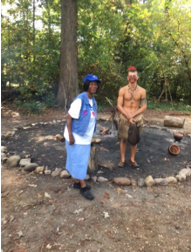 Points of interest included the Historic Jamestown Church, John Smith Statue, and Native American huts and living area. In 1608 a fire destroyed the fort, storehouse, church, and some dwellings. That same year, a drought destroyed the crops. In 1610 starvation again occurred when settlers did not store enough food, and only 60 settlers were left in June 1610 when Lieutenant Governor Thomas Gates arrived.
Testimonials of Field Trip Group Participants
"NAAV, thank you for allowing me to be a part of this year's field trip to historic Jamestown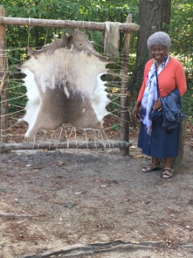 settlement in Virginia. I enjoyed especially the fellowship of the people on the bus. The lunch was fantastic. I learned about the history of Jamestown. We had the best bus driver that I have ever traveled with. It was a wonderful experience and the group lunch in Williamsburg, Virginia, was great! Thank you NAAV for the invitation." —Gloria, Maryland
"I learned about the first settlement to the Americas and that Jamestown had an extremely high mortality rate due to disease, gross mismanagement, and later Native American raids. The Jamestown exhibits were great. Overall, I had a wonderful time. Thank you, NAAV!!" —C.B., District of Columbia
"My husband Charlie and I want to thank Mrs. Burns and the National Association of American Veterans for the much-needed respite to Jamestown, Virginia. It was so peaceful riding that beautiful charter coach bus to Jamestown. It was a step back in time. It was informative as well as relaxing, to see how the Native Americans built their homes, lived, and how they prepared their food. We enjoyed visiting the Fort, and looking at the different living quarters of the troops. They had a Church and a weapons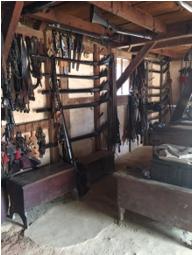 storage area, with weapons of that era. The trip was very educational. Later that afternoon we had lunch, with a great group of people who traveled with us. The fellowship was a blessing. We truly had a wonderful time. Thank you so much." —Charlie and Lola Johnson, Maryland
NAAV's next scheduled field trip will be to the Sight & Sound Theatres of Lancaster, Pennsylvania, to see the Christmas musical in November 2017. These respite care field trips are made possible through the generous donations received from NAAV supporters and sponsors in support of Veterans and their families. To make your tax-deductible donation today, please visit www.naavets.org and click on DONATE TODAY!