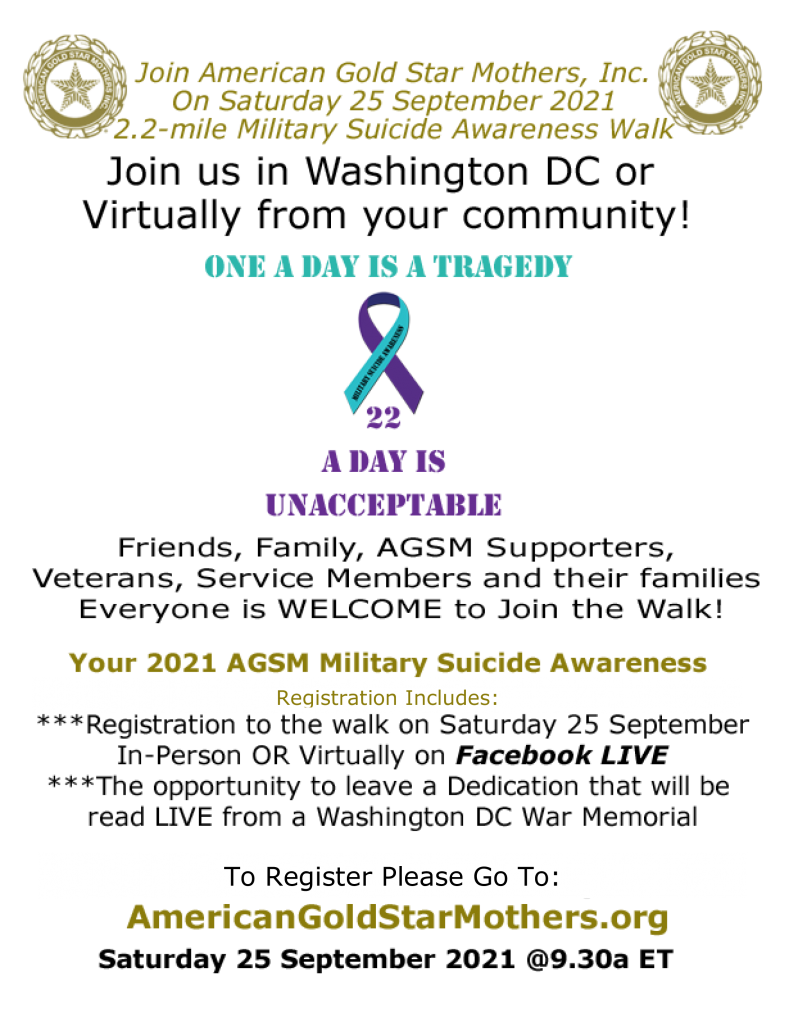 The purpose of this correspondence is to make you aware that September
is Suicide Prevention Awareness Month. A time to raise awareness on this
stigmatized, and often taboo subject. Suicide Prevention Awareness
Month not only brings attention to this public health crisis but seeks
to shift public perception, and use this month to spread hope and vital
information to individuals, and families, who have been impacted by this
public health crisis.
American Gold Star Mothers of America, Inc.,
(AGSM) is at the forefront to bring awareness, and an end, to this
public health crisis.
On Saturday, September 25, 2021, Access Housing, Inc. will join with the
American Gold Star Mothers, Inc., (AGSM) for a 2.2 mile Military Suicide
Prevention Awareness Walk.
Family, AGSM Supporters, Veterans, Veterans Affinity Groups, Active Duty
Service Members, Federal Employees, Community-Based/Non-Profit
Organizations, and Families. Everyone is Welcome to join the Walk!
The American Gold Star Mothers, Inc., will host a 2.2 – mile Military
Suicide Prevention Awareness Walk on Saturday, September 25, 2021 @
9:30a.m
2021 AGSM Military Suicide Prevention Awareness Walk
To Register Please Go to: AmericanGoldStarMothers.org