Celebration of an American Hero – A Tuskegee Airmen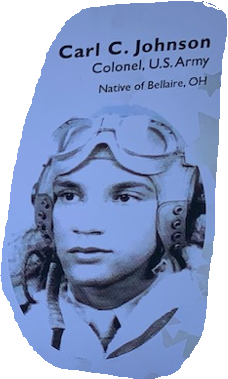 ***The Tuskegee Experience captured 1941-1949
A long procession of cars representing American Legion, VFW, Elks Lodge, and personally owned vehicles, escorted by Loudoun County Sheriff's Department Motorcycle Officers, and a line of pedestrian standing along the street corners leading up to the home of a WWII Veteran hero.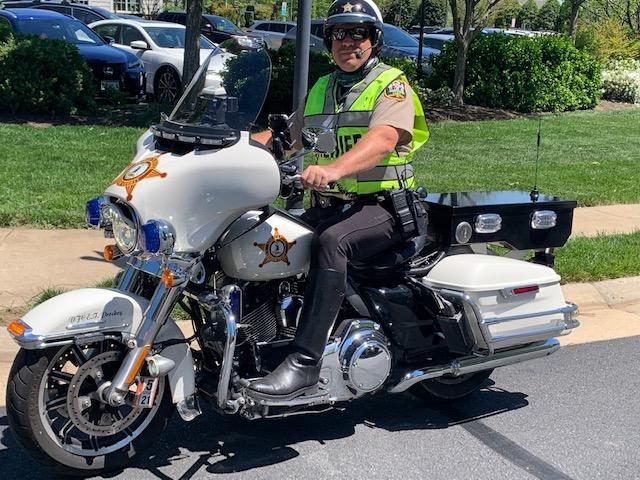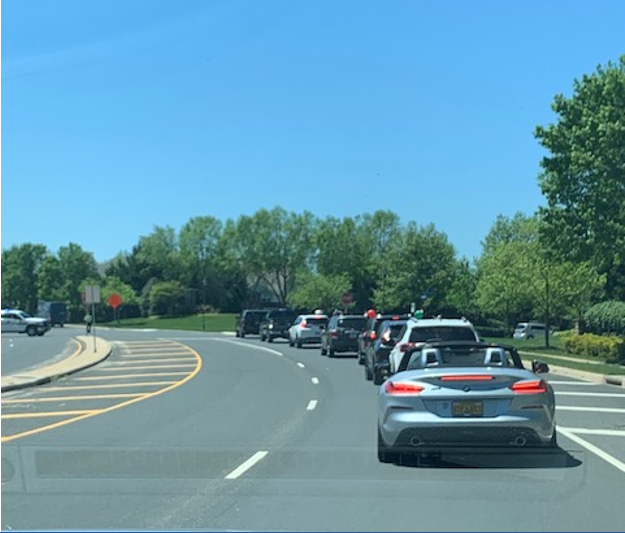 It was a beautiful day on Saturday, May 1, 2021.
An invitation was sent calling out those interested in meeting at the Steuart Weller Elementary School in Ashburn, Virginia at 1230 to participate in a processional to join others in celebrating the 95th Birthday tribute prepared for Tuskegee Airmen, Col. Carl C. Johnson.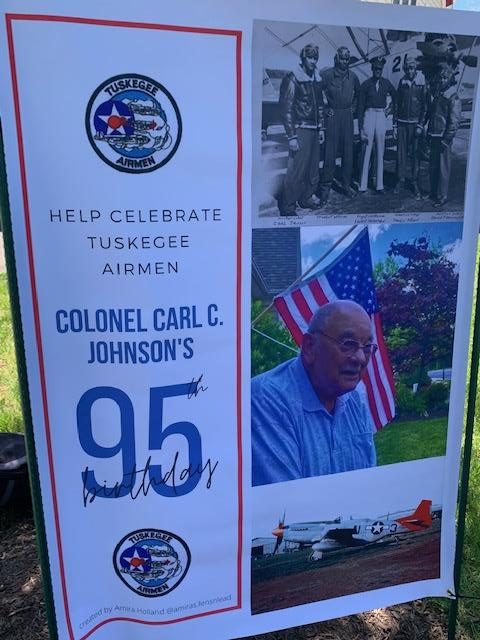 The commencement began with smiles, honor, salutes, flags waving, and cameras out all to pay homage to a true American Hero. Col. Carl C. Johnson has an amazing track record streaming 30 years of his military service, namely:
Drafted while studying at the Ohio State University
Flew his first airplane during flight training at Tuskegee Army Flying School
Became ill before his pilot training in Class 46-C concluded
Graduated in 1946 from advanced flight training at Enid Army Air field, Oklahoma
Flew with the 617th Bombardment Squadron at Lockbourne Army Air Base
Activated with his reserve unit, the 37th Infantry Division, during the Korean Crisis
Flew in Korea as an Army aviator
Commanded the 210th Combat Aviation Battalion in Vietnam
Awarded the Distinguished Flying Cross and other medals
Retired from the Army with rank of Colonel after 30 years of service
Worked full-time and executive positions at the Cleveland, Pittsburgh, and Ft. Lauderdale airports
The cars and passer-byers drove and walked pass Col. Johnson's home where he sat on his front driveway surrounded by family, friends, other noble service members associated with the Tuskegee Airmen and Chapter who later presented Col. Johnson with a plague.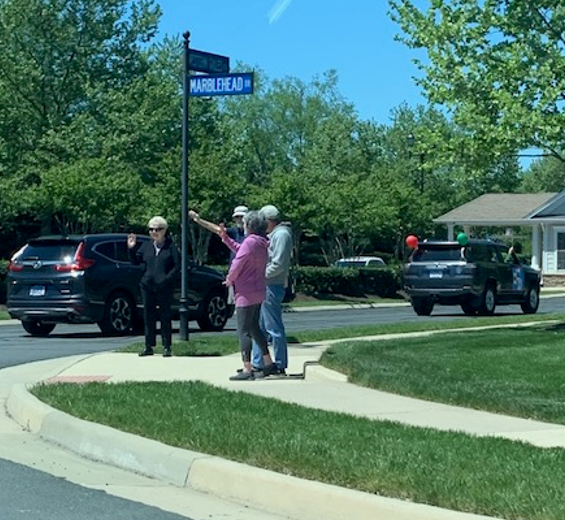 Johnson with a huge cake and commemorative plaque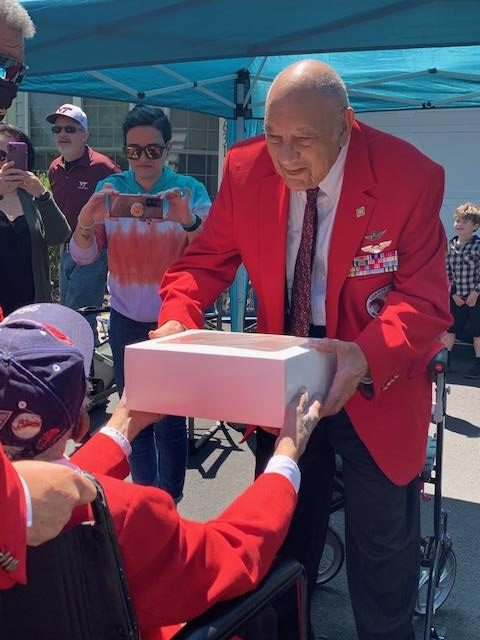 * Col Johnson (Standing)
His daughter and granddaughters shared favorable words and proud sentiments of their dad and grandad. His face was lit up like the sun and in his words he said, "I never would have imagined a celebration like this." Why the surprise? His granddaughter said he does not realize how special he is—and what he deserves.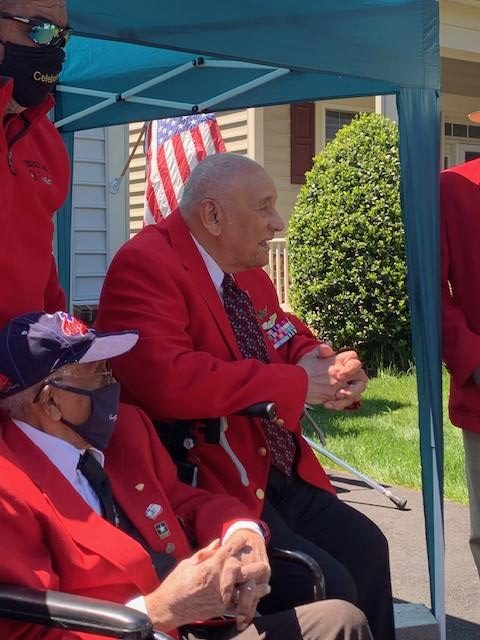 Col. Carl C. Johnson is a testament of overcoming. Through his years he has faced and overcome challenges (social and racial), adversities (employment), and illness. However, his history and legacy will always attach him to being recognized as one the original Black Fighter Pilots named as The Tuskegee Airmen.
It was a true honor in the celebration with others who could not pass up the simple yet history gesture in paying respect to an American WWII Veteran. Although it is not Black History month in the formal sense, it was a moment in history carved out to highlight a Black man, who achieved in his lifetime an experience of glory, grit, faith, and accomplishment as an active and retired Military serviceman, who undoubtedly sacrificed his life for country and his fellow Americans.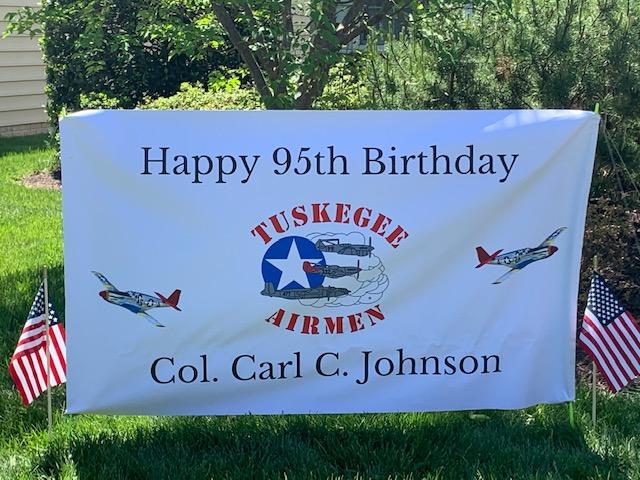 Happy 95th Birthday Col. Carl C. Johnson, you most certainly "deserve the attention and celebration!" We proudly salute our American Heroes.
Sincere regards,
NAAV, Inc.,
CEO and President
Washington, DC