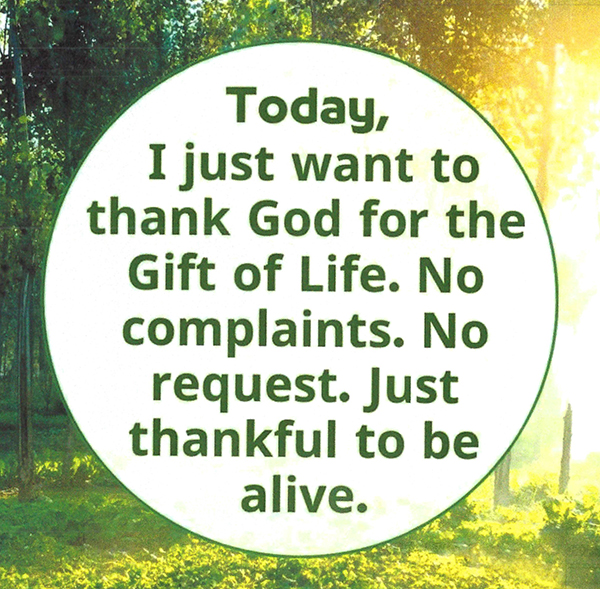 I WILL PRAISE YOU O LORD
with my whole heart;
I will tell of all Your
marvelous works.
I will be glad and rejoice
in You; I will sing praise
to Your name,
O Most High.
The LORD also will be a refuge
for the oppressed,
A refuge in times of trouble.
And those who know Your name
will put their trust in You.
For You, LORD, have not forsaken
those who seek You.
Sing praises to the LORD, who dwells in Zion!
Declare His deeds among the people.
When He avenges blood, He remembers them;
He does not forget the cry of the humble.
Have mercy on me, O LORD!
Consider my trouble from those
who hate me,
You who lift me up from the gates
of death,
That I may tell of all Your praise
In the Gates of the daughter of Zion.
I will rejoice in Your salvation.
(Psalm 9: 1-2; 9-14) NKJV
Scripture Verses for Mediation: (NKJV)
"Oh, give thanks to the God of heaven! For His mercy endures forever."
(Psalm 136-26)
"Oh, give thanks to the LORD, for Hie is good! For His mercy endures
forever. Blessed are those who keep justice, and he who does
righteousness at all times!"
(Psalm 106:1,3)
"I will never forget Your precepts, for by them You have given me life."
(Psalm 119:93)
"Praise the LORD! Praise God in His sanctuary; Praise Him in His mighty
firmament! Praise Him for HIs mighty acts; Praise Him according to His
excellent greatness!
Let everything that has breath praise the LORD. Praise the LORD! (Psalm
150:1-2, 6)
Prayer:
Heavenly Father, have mercy upon me, O God, according to the multitude of Your tender mercies, blot out my transgressions. Wash me thoroughly from my iniquity and cleanse me from my sin. For I acknowledge my transgressions, and my sin is always before me. O Lord, open my lips, and my mouth shall show forth Your praise. (Psalm 51:1-3,15) Lord, You are my rock, my stronghold and solid foundation. Because of You, I will not be shaken by my circumstances. Lord God, thank You for salvation and life eternal. I will trust in You with all my heart, soul, mind and strength and love my neighbor as myself. Lord God, help me to be less critical and more loving to others You send my way. Guide me to approach others with the gospel news about Your gift of salvation, compassion, patience and love always for humanity. In Jesus' name, I pray. Amen.
By NAAV, Inc. Volunteer Contributor for Spiritual Wellness; email:
cburns@naavets.org. Image selection by Lola Johnson, NAAV Senior Advisor
for
Caregivers Respite Care.