Robert Michael Kraft, U.S. Navy Veteran
January 14, 1936 – August 17, 2020
My father's soul took flight on Monday, August 17th. A least, that's how I prefer to think about it. He was a career naval pilot and always talked about flying like it was a transcendent, mystical experience, full of beauty and awe and peace. Perhaps it was the closet he felt to his understanding of God. If he is having any kind of experience now, I hope it is something akin to the joy flying brought him when he as with us.
It has taken me some time to process my feelings and formulate what to share about his passing and his life. I found it hard to be brief. Although he was 84, his transition was somewhat surprising since earlier in the year he had been hospitalized with COVID-19. For 78 days he was not allowed any visits from family, or to go outside, or to even leave his hospital room. After surviving that, we thought he was a tank and he'd be with us for a good long time. But just a few months later, he suddenly could not be woken from sleep. Dad had had a stroke due to lack of oxygen to the brain. He had some pre-existing vascular issues which had likely been exacerbated by the COVID-19. Although he did eventually wake up, he as just not the same and needed 24/7 home health care. His fight was gone, and he was declining steadily.
With his situation not looking great, I took my son Leo for a visit with him at what had been my childhood home, where he had a hospital bed set up on the first-floor family room. Dad had been COVID-19 negative for many months so by this time, so a visit was possible; however, it was hard to connect with Dad because he was asleep most of the time. I helped feed and change him, massaged his hands and arms, and talked to him whenever he was alert.
I looked around…although he had recently lost clear vision, books still adorned his bedside table, as did his still active Washington Post subscription. Dad was always a voracious reader and very knowledgeable (and opinionated)! He was a particularly ravenous consumer of history, biographies, and political commentary. So, I asked him if I could read to him. Through closed eyes, he said yes.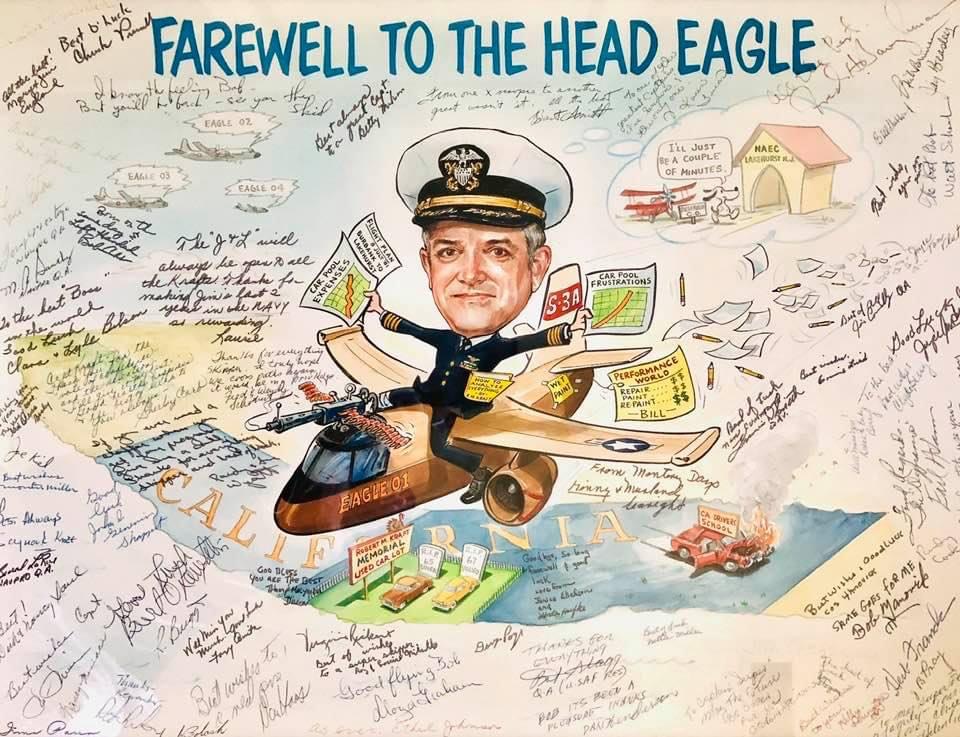 A career military man and lifelong moderate liberal Democrat, he was passionate about freedom, civil rights, and social justice, and raised us with those values. He created a family experience out of watching the Roots series in the 1970s. He regaled us stories that left lasting impressions on my psyche, such as when his unit/squadron was in the Deep South at a restaurant which refused to serve one of their African American Serviceman, they all picked up
their chairs and stood in solidarity until their brother-in-arms was served with them. So, it was not surprising to me, when I read to Dad from the Washington Post about Kamala Harris having just been selected as Joe Biden's running mate, that, through closed eyes, he would still interject comments like "thank God", "good for her" and "damn right!". His mind was still flickering with comprehension, and his passions still had a flame under them.
I took a walk around the house. Years ago, he had converted by sister's room into an office, and in it hung awards and mementos from his career (including the farewell poster pictures in this post). My Dad had served 31 years in the Navy, first flying P-3s as reconnaissance in Vietnam, then as a test pilot, then as program manager of several major military acquisition programs, and finally as Commander Officer of two major engineering facilities. He was apparently a very skilled pilot, and a stickler for safety, having lost several contemporaries in plane crashes early in his career. My father was acutely aware of how many times he narrowly escaped death. Infamously, when Dad was too ill to fly one day, his squadron mate and friend, Doug, took over his assigned flight, one that ended up crashing and costly Doug his life. For that tragic event he honored Doug's sacrifice and memory by giving his name as the middle name to his firstborn son, Neal Douglas Kraft.
There were lots of award plaques on his office wall. My mother used to complain that during the time she had three of us in diapers (cloth diapers no less) my father won every award there was, but she never saw him. My father probably always worked too hard. I remember, when we were older, he would occasionally take Neal, our sister Lisa and I into work with him on a Saturday. My favorite memory of this was when he would take us to the hangers on base an put us in plane cockpits and helicopters. He would explain the controls and dials and excite us with the promise of one day taking us "up in the air" with him, which he intended to do after acquiring a commercial license.
Looking over his tributes in his office, I recalled the many times my dad regaled us with stories of adventurous flights, frightening storms, dangerous combat missions, and funny anecdotes. From the way my dad spoke about flying, it brought him great sense of accomplishment, camaraderie, and joy. The expansiveness of the eagle's view of natural landscapes seemed to lift him above the discord of the world and into a bliss of suspended stillness. So, it was a great disappointment to him, after he survived a minor heart attack in his early 40s, that he was no longer medically permitted to pilot. This was also a disappointment to me, because it meant he would never be able to take me "up in the air" with him.
During my childhood we only lived two years on a military base. The rest of my growing up years we lived in regular suburban neighborhoods and our lives felt very civilian. It is only now, as an adult and father myself, that I understand many of the sacrifices my Dad made so we could have that "normal" life. When he was assigned as a program manager at the Lockheed facility in Burbank, CA, he moved us into a house in the more hospitable Thousand Oakes California some distance away.
That meant he had to commute upwards of three hours a day so that we could have a more suburban experience. When we were in high school in Springfield, VA, he would take the bus or hitch a ride (literally) to the Pentagon, in order to make his car available to his newly driving teenagers.
I continued walking around this house, and there were photos everywhere of places he had driven to. He liked to be always in control of his vessel. He was always the driver in the family vehicle, he categorically refused to take a pleasure cruise, and he didn't like to be flown by others, so he rarely took a commercial fight. But he loved everything about road trips…planning his "flight plan" in advance on big folding maps (I don't think he ever used a GPS navigator in his life), getting on the road in the early morning hours, stopping when he wanted to take pictures of awe-inspiring landscapes. He preferred road travel to passenger flying so much that when he decided, in his 60s, to visit the one state he had never been to, Alaska, he drove there…alone…without a cell phone…from Springfield, VA. We weren't sure he was going to make it back! But he did, and he took some terrific pictures along the way of places like Banff in Canada, pictures that I found on his kitchen walls.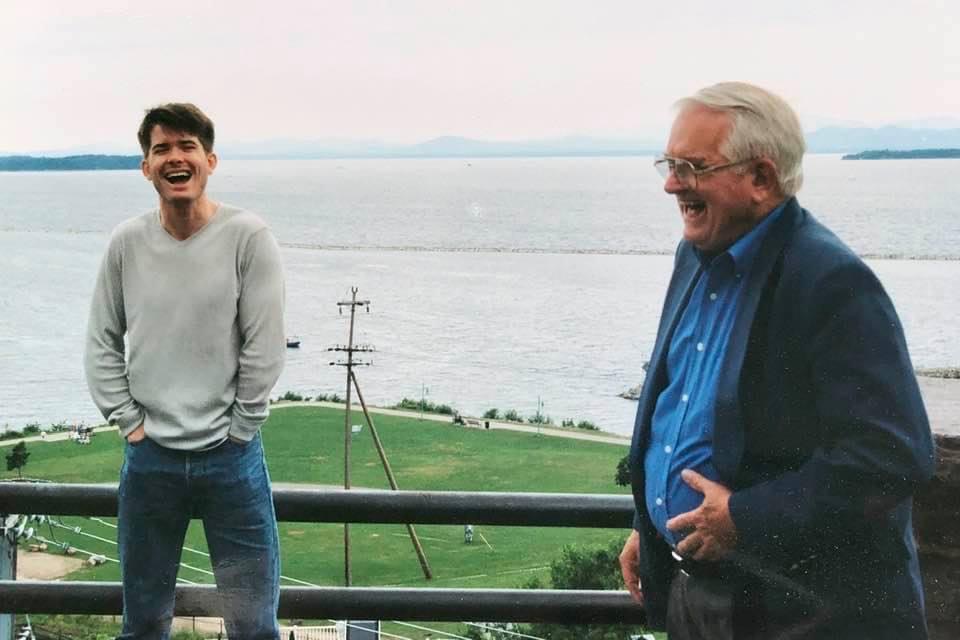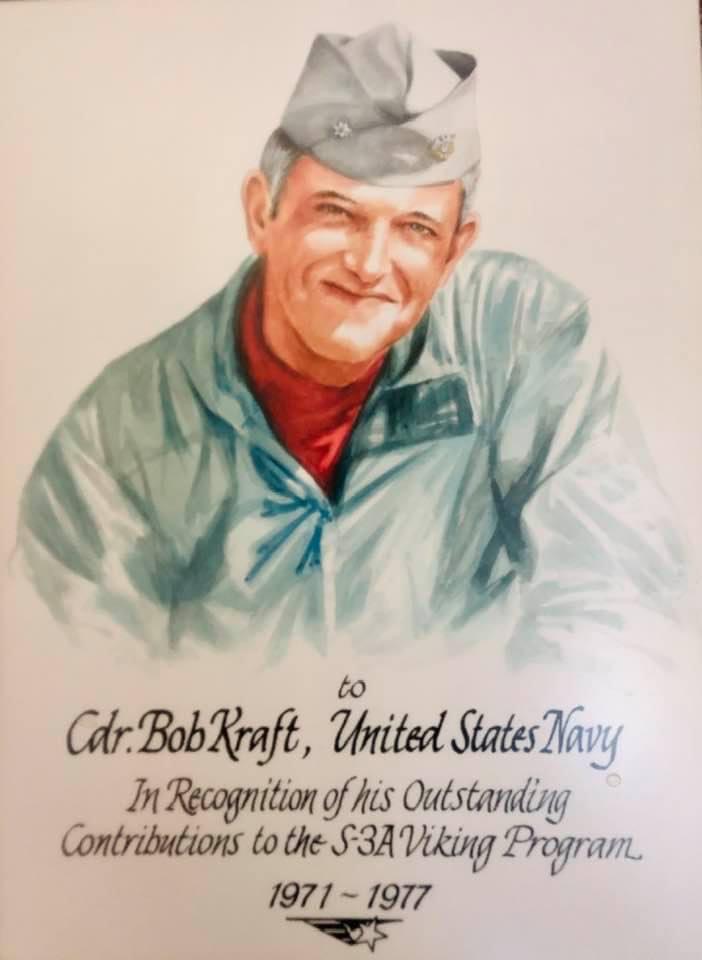 Whenever we had a cross country move, dad would turn it into a week-long family driving vacation. He loved exploring by land the beautiful geography which he had seen from the air, and he made sure he exposed us to as much of it as he could, particularly the national parks. By the time I was 14, he had taken us to about 31 states and we had seen Yellowstone, Flaming Gorge, Lake Tahoe, the Badlands, Mount Rushmore, Niagara Falls, the Vanderbilt House, Pacific Coast Highway, The Golden Gate Bridge, and the Redwood Forest, to name a few. I'm so grateful to dad for everything he exposed us to. It gave me a sense of the diversity in our country, both geographically and sociologically. He taught me that there were all kinds of places and all kinds of people.
Dad would also come to see me when I was doing regional theatre around the country, usually driving instead of flying, no matter where it was. Back in the house, his staircase and upper hallway walls were completely covered with framed posters from nearly every show I had ever done (whether they deserved framing or not). Each time I visited, I was always amazed by the tribute he gave me and the pride with which he regarded the life path I chose, even though it was so very different from his own.
I was very grateful to my father for having shepherded all his kids into discovering who they were and then providing opportunities for them to best he knew how. When I was in the 3rd or 4th grade, he, by chance, took us to the Lazy Susan Dinner Theatre where I saw my first show,
Oliver, a character about the same age as me. I knew right then and there that I wanted to be an actor. Dad had very little experience with the Arts himself, but as my interest in theatre
grew, he started taking the family to venues like Wolf Trap Farm Park (where we saw South Pacific), the National Theatre (Cats), the Kennedy Center (The Wiz with Stephanie Mills and the pre-Broadway Production of Les Miz with Colm Wilkinson) and the Warner Theatre (Flying
Karamazov Brothers). These were shows that burned themselves into a memory and changed my life forever. He got me involved in the very active community theatre scene in the DC area, and when it became clear in high school that I wanted to pursue drama in college, my aeronautical engineer father threw himself into researching universities with good theatre programs that he felt he could afford. He helped me fill out all my college applications and drove me to interviews and auditions. I ended up at UNC-Greensboro, which has a very reputable theatre program. I appreciate even more now what he did for me. He may not have known the way initially, but he hacked through the jungles until he helped me find the way.
Over the years, Dad fell so in love with theatre himself that he became a subscriber to most of the DC area theatres such as Arena Stage and Kennedy Center. I like to think that my interest in the theatre introduced him to a whole new world. My father was so good at researching colleges for his own kids that he became a volunteer college guidance counselor at our high school. He helped many young people and their parents with their college searches for years after we had already graduated.
Shortly after successfully getting us all on our collegiate paths, my parent's marriage regrettably ended, and he began living alone in the same 4-bedroom home we had grown up in. He lived there for the rest of his life, and his wish was to make his transition in it, a wish that ended up being fulfilled. Many questioned why he chose to live alone in the now oversized house for him. His answer was almost always the same, "it's where I raised my kids". It's where he felt most connected to family, and in a full circle way, he ended up passing away there on what would have been his 63rd wedding anniversary.
The house had become something of a shrine to his family life. There were pictures of my siblings and I in almost every room, and in his bedroom, I found three (3) "works in progress" photo albums, one dedicated to each of his children. True to his personality, they were each in a military style blue three ring binder, something that I'm sure was the presentation method for much of his project management work. He had been chronicling our lives, or perhaps putting his own life into context. They were probably the final addition to a series of volumes he had made of our family history, dating back generations, as far back as his research took him.
He was by no means a perfect man. This is not an indictment; I am far from perfect myself. Dad
was a principle, man with many convictions, though this sometimes made him unbinding and remote. It was hard for him to deviate from plans and his need to be in charge was so great that I often felt I had to wrest my adulthood from him. Perhaps, he came to realize I still loved him even if I no longer needed him in the same ways.
As an adult he was always there for me, particularly if I needed to talk. It fells so strange knowing I will never be able to call Dad again. Every Veterans and Memorial Day, I would call him and thank him for his service. One year he replied, "there's no need to thank me, I loved being in the Navy. I wouldn't have wanted to do anything else". He was lucky to have lived a life
doing what he loved, and he tried to create that for his kids as well. From the time we were young he would tell us it did not matter to him if we dug ditches for a living if we loved what we did and did it well. The next day it was time to return home. I was glad I had brought my son, Leo. Geographical distance had kept him from having many experiences with any of his grandparents, and now it looked like he was about to lose "Pop-pop" and have only one remaining grandparent. I wanted Leo to know who he was, so I relayed many stories about his grandfather as we toured his house. As we were leaving, I told dad I would visit again in a few weeks, but my gut feeling was that I would not see Dad alive again. I kissed him on the forehead, told him I loved him, and said goodbye. Then I took my son home, hoping that I will be able to offer him all of life opportunities that my father had given me. A few days later, dad passed quietly in his sleep.
Dad, you may not have gotten to take me on a flight like you wanted. But you gave me my wings and helped me chart my own course. Thank you for that. In doing so you gave me life a second time. Wherever you are, I wish you the peace and bliss you felt when flying. Maybe one day we will be together again…up in the air.
Funeral services were planned with the burial services for Robert Michael Kraft, U.S. Navy Veteran conducted at the Arlington National Military Cemetery on January 28, 2021, at 1:00 p.m. Please visit https://www.dignitymemorial.com/obituaries/9317081 to post a comment in remembrance. Thank you.
By Kevin Kraft