Health Challenges Facing Women Veterans Following Deployment
The Women's Veteran Luncheon was held at the Rayburn House Office Building on November 7, 2017. The event was sponsored by the Women's Congressional Policy Institute, Disabled American Veterans, and Iraq and Afghanistan Veterans of America along with the Congressional Caucus for Women's Issues. It was made possible through a grant from the Robert Wood Johnson Foundation.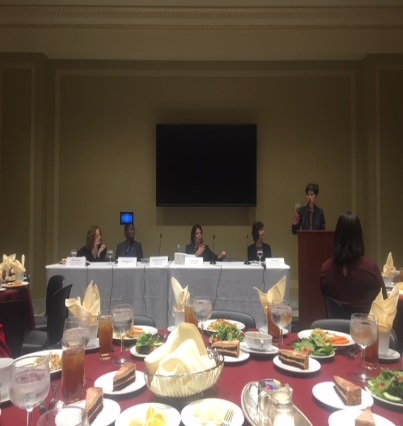 The first speaker was Dr. Caroline Clancy, the Executive in Charge, Veterans Health Administration. Dr. Clancy reported that the VA has developed a tool that can identify patients who may have the highest propensity for committing suicide. Suicide prevention is a key goal, particularly because there has been an increase in female Veteran suicides. The VA is working on providing better benefits for female Veterans, and she indicated that the VA is increasing access to breast cancer screenings as well as ensuring that it provides extended hours for women to access the healthcare they need. She reiterated that the VA's mission is to address the access crisis in healthcare.
The VA is now providing online video conferences via Tele-health and increasing the number of nurse practitioners as well as doctors when and where possible. It is working on building a program to get services where and when they are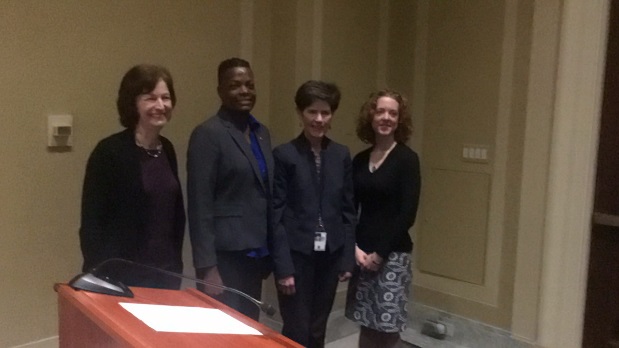 needed because of the urgent need to get help to reduce suicide rates. Suicide prevention is the top clinical issue. Female Veteran suicide is twice the rate of civilian suicide. There are new programs for PTSD, homelessness, etc., and there is a Veteran suicide hotline. The number to call is 800-273-8255. Dr. Clancy also indicated that there is free counseling related to Veteran sexual assault available for women as well as a program to help people experiencing mental problems.  
The second speaker was Shurhonda Love, a service-connected disabled Veteran who was appointed Assistant National Legislative Director of the Disabled American Veterans (DAV) in 2015. In this capacity, Ms. Love oversees a program that provides services for the over-1.3-million-member organization that includes disabled Veterans and their families. Ms. Love works to ensure that current benefits are received and works to prevent the erosion of those benefits particularly because of the major disparities in female healthcare. She noted that the organization, Veterans Helping Veterans, helped get $4 billion in benefits and retro benefits for disabled Veterans and their families. Ms. Love recounted that the rapid growth of female Veterans has caused challenges in receiving gender-specific medical care at the facilities where they have access. As a result, many of the women have trouble getting in to see a gynecologist. The VA is currently short 765 medical care providers. For more information, please go to www.dav.org.
The last speaker was Allison Jaslow, the Executive Director for Iraq and Afghanistan Veterans of America (IAVA). Ms. Jaslow served two combat deployments in Iraq. She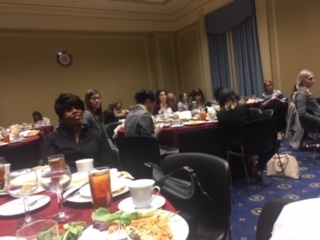 reported that women Veterans are dying 250% more than civilian woman. There are 2.2 million female Veterans, and large numbers are from Texas, California, Florida, Virginia, and Georgia. She reminded the audience that we have been at war for 16 years. She also reported that many women Veterans feel invisible. She left the audience with a stark reminder: less than 1% of the U.S. population is serving in the military, which leads to the same men and women being deployed five, six, multiple times. For more information and to access data and survey results, please go to IAVA.org/survey.
Photographs by Ramondia N. Simmons,