Rose Marie Mikolajczyk-Baker, an award-winning artist invited twice to the Winner's Circle Show in Fort Myers, Florida, has donated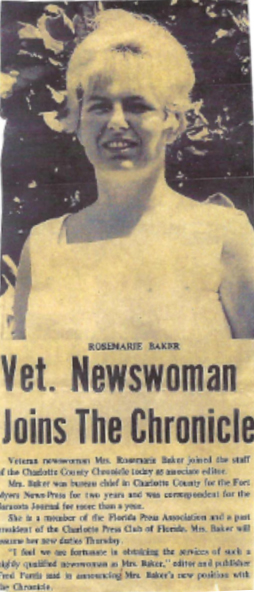 over forty of her paintings in support of our nation's Veterans and their family members most in need due to the COVID-19 pandemic outbreak in 2020 worldwide. Born in Cuyahoga Heights, Ohio, in May 1934, she moved to Somerset, Kentucky, in 2000. Twenty years later, she now resides at the City Center Senior Facility in Decatur, Alabama.
Rose Marie began her career as a photojournalist in 1969, covering all phases of news, social events, and feature stories in Charlotte County, Florida, and northern Ohio. She was woman's editor for the Charlotte Herold News, assistant editor of the Charlotte Chronicle and bureau chief of the Fort Myers News Press.
Her work experience included public community relations at the St. Charles Borromeo Catholic Church and School. She volunteered at the St. Alexis Hospital as a public relations assistant and the West Side Community Mental Health Center, where she was responsible for the Clearinghouse and Inside West Side (two newsletters), news releases, and public service announcements. She was active in the Aids Ministry in Charlotte County in Florida.
In 1965 and 1966, Rose Marie attended the Cleveland Institute of Art in Ohio, with an emphasis on drawing. She also attended the Cuyahoga Community College in Parma, Ohio, receiving instruction from Professor Sharlene Pearl Green in 1989. Then, in 1992, she attended Manatee Community College in Venice, Florida, receiving instruction from Professor Kate Korp in graphic arts, design, woodcut, and monoprints. She also studied with such noted artists as Gale Bennett in acrylic abstract; Max Muller, watercolor; Marcia Stewart of Fort Myers, Cooper Etching, printmaking; and Skip Lawrence, watercolor.
Rose Marie Mikolajczyk has had a lifelong interest in the visual arts and has explored many different mediums. Her subject matter runs from traditional to imaginary to the visionary. Her painting styles are many, depending on the subject matter, and can be realistic or a combination of expressionism and abstraction. She was a three-year member of the Sea Grape Artists co-op in Punta Gorda.
She taught watercolor and pen-ink at adult education. She was past member of Sea Grape Artists, the Help DAN, a drug abuse program for county school kids, and Big Brothers of Charlotte County.
Paintings by this award-winning artist are shown below. Her work is in many private collections in Ohio, Kentucky, Virginia, and Florida.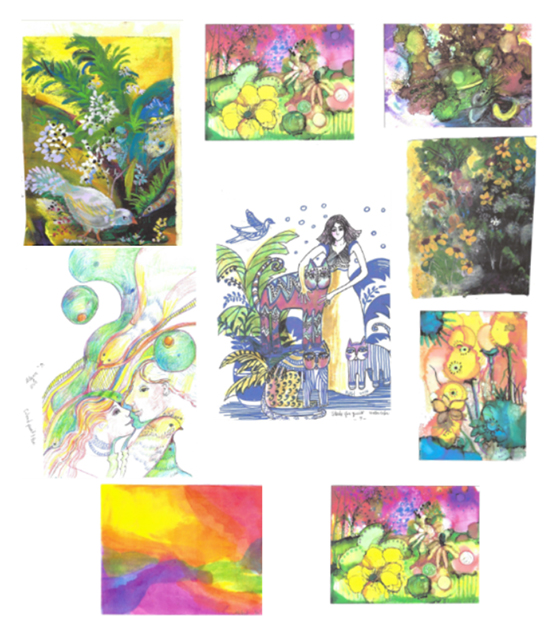 Titles of Artwork Above: Left to Right & Top to Bottom of this page are as follows:
In My Garden 2. Fantasy Garden #2; 3. Design Explored; 4. Love Blooms; 5. Kate Cats;
6. Black Eyed Susans; 7. Western Sun Set; 8. Birds and Bees; and 9. Fantasy Garden #3
On March 17, 1972, Rose Marie Mikolajczyk married Lieutenant Colonel Richard D. Baker of the U.S. Air Force.
About Lt. Colonel Richard D. Baker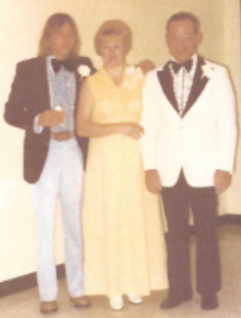 Lt. Colonel Richard D. Baker was born on February 24, 1920. He enlisted in the U.S. Army in 1941, and transferred to the Army Air Corps after recovering from a head injury. He became a Pathfinder and later flew supplies to Germany during the Berlin air lift. He served in Japan under General Douglas MacArthur, and later in Vietnam.
His long list of foreign assignments starts in Bermuda in 1946, with his next assignment in Germany, where he participated in the Berlin airlift. After six years in Germany, he was sent to Azores, where he held the position of Traffic Manager, 1605th Transportation Squadron. In 1965 he went to Southeast Asia, taking command of the 441st Transportation Squadron, Yokota Air Base, Japan. Also, in the same year, he spent ninety-five days TDY in the SEA area. On November 29, 1966, Lt. Colonel Baker departed for an assignment as 15th Aerial Port Squadron Commander, Da Nang Air Base, Republic of Vietnam. Lt. Colonel Baker's decorations and medals includes Army Commendation Medal; World War II Victory Medal; Berlin Airlift Device; Distinguished Unit Citation; Vietnam Service Medal (with one bronze service star); and Medal for Humane Action.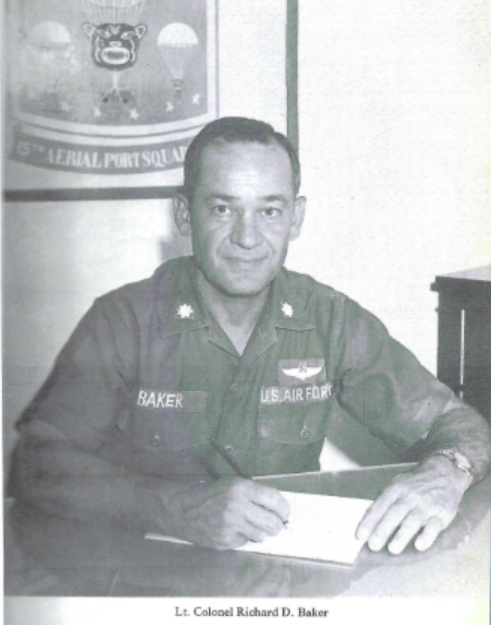 He retired from the US Air Force in 1971 and later worked at the Pentagon. He moved to Port Charlotte, Florida where he accepted a position as Development Authority Director. There he met news reporter Rose Marie Mikolajczyk. Together they were active in Big Brothers of Charlotte County, the Knights of Columbus, and the Help D.A.N. Program and the Kiwanis Club. They were married on St. Patrick's Day on March 17, 1972. He passed on July 27, 1975, at the Walter Reed Army Hospital in Washington, D.C. on the 200 Year Anniversary of the Hospital.
Mrs. Rose Marie Mikolajczyk-Baker donated selected drawings of her art collection to the National Association of American Veterans, Inc. (NAAV) for sale in honor of her husband Lt. Colonel Richard D. Baker for his years of military service to our nation and local communities.
Rose Marie is pleased that her lifetime collection of paintings, drawings, computer designs, and prints such as woodcut, intaglio, and copper etchings will benefit American Veterans. Although she studied art in college and at art workshops, she is mostly self-taught, quite an accomplishment for someone who had two major single artist shows. She was a member of the Charlotte County Art Guild, the Kiwanians, and several other community organizations. She claims that art sooths her soul and she gives thanks to God for this blessing.
While at the newspaper in Punta Gordo, Florida, Rose Marie and the publisher hosted weekly wine tastings and art shows. It is suggested by the family that those who acquire one of her art treasures should attach a copy of this disclosure to it so that your heirs understand its significance. Heirlooms and family treasures are often disposed of because the receiver is unaware of its history and family significance.
Mrs. Mikolajczyk-Baker became aware of the National Association of American Veterans, Inc. in a discussion with Mr. Aaron N. Spencer, a NAAV Senior Advisor, both of whom live at City Center Village, an independent living community in Decatur, Alabama. Also assisting with Rose Marie's story was Al Kuchinka at the City Center Village in Decatur, Alabama.
Submitted by
Aaron N. Spencer
Senior Advisor, NAAV, Inc.