On Friday, April 22, 2016, the National Association of American Veterans (NAAV) joined in partnership with BraunAbility and MobilityWorks at a special ceremony to honor a disabled US military Veteran with a 2015 Dodge Grand Caravan SXT that is equipped with a BraunAbility XT.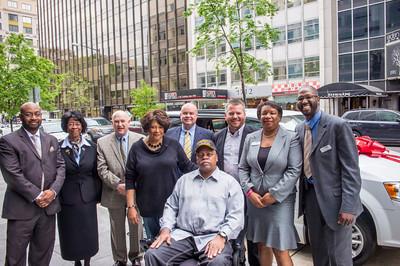 From left to right: Evens Bonny, Assistant Vice President and Branch Manager, M&T Bank, Washington, D.C., and NAAV Board Member; Constance A. Burns, President and CEO of NAAV, Inc.; Randy Benson, Regional Manager of MobilityWorks in Beltsville, Maryland; Craig Harlow, MobilityWorks; Matt Swope, BraunAbility Director of Sales Eastern United States; Sherry Jones, Mobility Certified Mobility Consultant and Te'tro Martin, Inside Sales Representatives; and Charlie and Lola Johnson, awardees.
NAAV President and CEO Constance A. Burns, along with Matt Swope, BraunAbility Director of Sales Eastern United States, and Chris Paczak, MobilityWorks Vice President of Marketing, had the proud honor of presenting this assisted mobility van (above photograph) to Retired Navy Veteran Charlie Johnson and his wife and caregiver, Lola Johnson, of Upper Marlboro, Maryland, at the NAAV Corporate Office located at 1725 I Street NW, in Washington, D.C.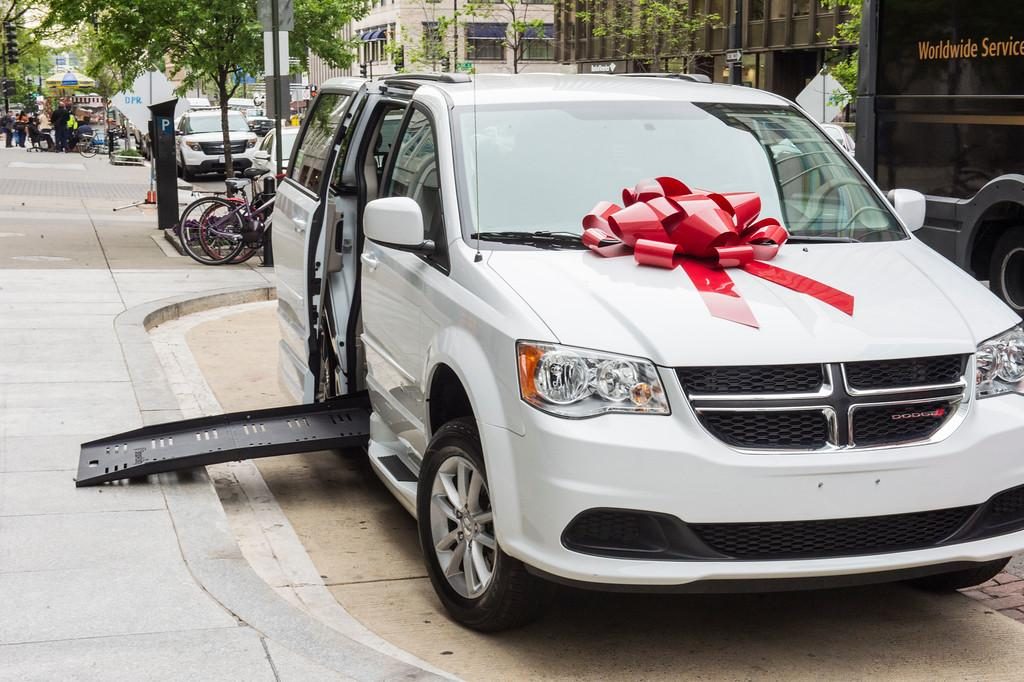 This exciting event began at 8:00 a.m. on Friday, when members of MobilityWorks arrived at the Johnson residence in Maryland for a ride destined to surprise. The MobilityWorks Foundation of Beltsville, Maryland, was the major sponsor of this donation.
MobilityWorks has been helping people connect with who and what matters since 1997. This Veterans' program is designed to meet the individual needs of Veterans and to work with the local VISNs and Veterans' service organizations to make the process of securing accessible vehicles, lifts, and driving equipment for Veterans as easy as possible. The two organizations, BraunAbility of Winamac, Indiana, and MobilityWorks, worked in conjunction with NAAV as a momentous opportunity to present the Johnsons with a much-needed mobility assisted minivan.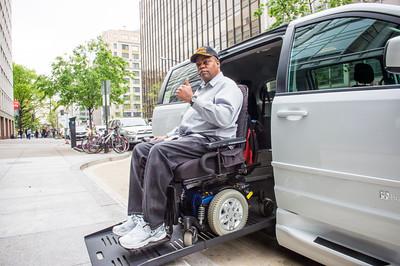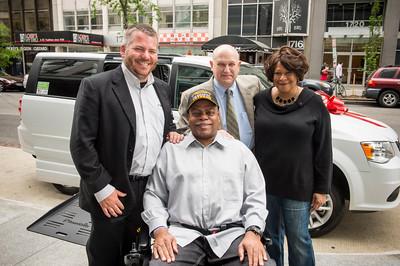 NAAV reached out to representatives from the news media and several local papers, including the VA Public Affairs department, Washington Times, Washington Post, Network Journal, Blacknews.com, the Afro American Newspaper (Baltimore), as well as the Fairfax Times and Inside NOVA (Northern Virginia), and WHUR's Gospel Spirit. Other distinguished attendees included Keisha D. Turner, Outreach Program Coordinator, SFAC Soldier and Family Assistance Center, Walter Reed National Military Medical Center, Bethesda, Maryland.
Fox5 News was there to report on and document this occasion, capturing the moments and sentiments of both Charlie and Lola as they were presented with this functionally equipped van in humble gratitude and acceptance. Photographs and video coverage highlighting several moments were taken by Maria Bryk. NAAV offers a special thank-you to Ms. Bryk for taking part in the unfolding and recording of this event and its unforgettable moments.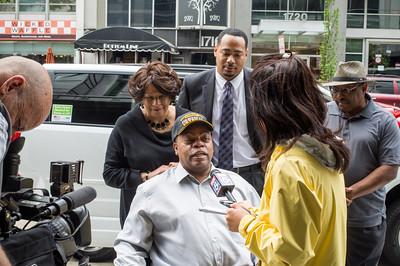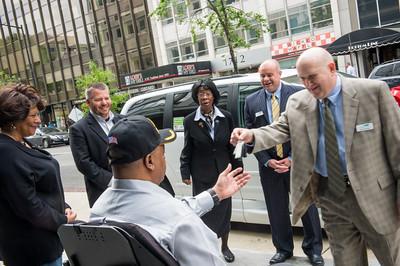 Pedestrians and commuters passing by the NAAV corporate office on April 22, 2016, were also able to witness the hand-off of the keys from Randy Benson, General Manager of the Baltimore MobilityWorks division, and BraunAbility representative Matt Swope to Charlie Johnson, while his wife, Lola, stood by admiring and thanking everyone involved for contributing to this long-awaited blessing.
Roger Cunningham, General Manager of the 18th and PA Avenue NW location of the Corner Bakery Café, provided a generous amount of complimentary refreshments during the one-hour ceremony for those who participated to enjoy. It was a great event all around. Both Charlie and Lola drove away from the scene on cloud nine, and the organizations that so respectfully donated and participated received a tenfold reward of giving to those who gave so much.
Craig Harlow, a representative with MobilityWorks, wrote to Ms. Burns, "I am looking forward to meeting you and the Johnson's on Friday. It is days like these that make me so proud to be a part of the Mobility Works family."
NAAV CEO and President Constance Burns also expresses her gratitude and appreciation to those who attended and participated in this joyous event. NAAV would also like to extend our sincere recognition and thanks to many others who through your unyielding support, donations, time, service, and financial help make it possible for NAAV to succeed in fulfilling the needs of our American Veterans.
Those who fought hard to ensure our safety and comfort at home truly deserve the outstretched arms of all who are able to give back to the servicemen and servicewomen who gave so much for our families and country.
If you are interested in learning more about the BraunAbility and MobilityWorks organizations, please visit www.mobilityworks.com.
Feel free to explore more on the NAAV website for more information on our organization, the support it provides to American Veterans and their family members, and how you can invite others join in the sharing and caring opportunities to assist Veterans and their family members.
Sincere regards,
NAAV, Inc.,
Media and Publications