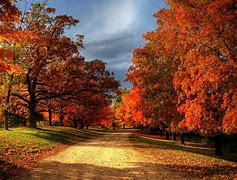 Seasons change. They come and go. With every old season, there is a promise of something new. The National Association of American has enjoyed yet another tremendous summer, and because of your contributions and support, NAAV has been able to provide much needed support to veterans and their family members.
A few of the end of summer accomplishments, we received feedback as well as testimonies of how, despite the heat, or lack thereof, NAAV ushered in a cooling breeze, just in time for the fall.
NAAV assisted Caregiver Sandra Depew now widow of Raymond Depew with




emergency assistance in August and September 2008. NAAV was able




through its resources and funds to get emergency home repairs for hot




water heater, food and utilities bills.
A word of thanks from a widow veteran survivor humbled by your support!
From Sandra Depew to Constance Burns and your organization: "I called upon you for help and you didn't shut me out. I wanted to say thank you so much for everything you did and all of your hard work. You are so appreciated. You advised me of how to apply for widow's benefits from the VA, which I had no knowledge about. No matter what the outcome would be, it was still worth trying.
My water heater quit working. It was 24 years old. Nearly one month went by that I did not have hot water. I was heating up water on the stove top burners to bathe, do dishes, and all laundry in cold wash.
I am the widow of a deceased veteran. When he died my life completely changed. Together we were financially stable although we still fell on hard times, because his income was stretched to the limit. I did have a short-term job at McDonalds, but I quit because his medical condition was getting worse. I needed to stay home all the time as care giver, because he required my help along with hospice.
I also learn that while my husband was sick and I was working at McDonalds, my brother who was 53 years old, died of an accidental overdose in St. Louis city. Being along, a widow, and little money left over to survive and without his financial support, I was left with financial hardships. That caused anxiety, stress, and depression.
I put some calls out there for myself, but did not get any for my water heater, because I didn't have any money to pay for one and everything that involves the work of a water heater. I could not find any resources for low income or limited income families. There were also surcharges for someone to come out and take a look.
When my husband Raymond died my charter services were suspended, which included Internet, TV, and home phone as well an unpaid bill still due for $277.89. I had to get a cell phone for emergency services and TV antenna.
You made it possible and got me the help I needed, which included tax deductible free labor connections, water heater installation and disposal.
"I hope that more donors give in support of your program and continue to give so your doors can stay opened, because it is very important that others get help." Many people are hurting who need help, but cannot get it. No one should be left behind. Without the support and importance of giving, this organization will not be able to move forward and continue to grow and help people like me.
Several months ago, I began to us the public shuttle bus to go places. There is a cost for a bus pass. I no longer have to walk everywhere, find a ride, or pay for expensive rides. This service is limited. It only goes so far northbound one direction, and southbound in the other direction does not service on the weekends, because I don't have a vehicle.
Once again, thank you so very much!"
Mrs. Sandra DePew
More accomplishments made by NAAV during the months of August and September:
NAAV provided complimentary two (2) night stay gift certificates to two




caregivers and their disabled Veteran residing in Maryland and Virginia




in August and September 2018. The gift certificates covered 3 meals per




day paid by NAAV sponsors and prior individual donations to NAAV.

In addition, NAAV received complimentary meal gift certificates for
disabled Veterans and their caregivers for a free meal in the DC,
Maryland and Virginia area.

NAAV was able to provide emergency assistance referrals and resources




for over 300 callers nationwide in August and September 2018.

NAAV provided Veterans' claims and benefits support for over 50




Veterans and their family members at the DC VA Medical Center




Benefits Office in Washington, DC including two widows of deceased




Veterans and two homeless Veterans seeking emergency assistance in




August and September of 2018.

NAAV sponsored a Veteran Caregiver and her spouse with a week of most




needed respite care at the Massanutten Resort in Massanutten, Virginia




in September 2018. All of the expenses were paid by NAAV's sponsors




namely GEICO Military and Tracfone Wireless, Inc.
NAAV is hopeful that you had a wonderful summer and look forward to a beautiful autumn season of transition and delightful change. Please continue to keep this organization in your thoughts and prayers. As you have read from the letter sent by Mrs. DePew, in her words and from our hearts, "I hope that more donors give in support of your program and continue to give so your doors can stay opened, because it is very important that others get help."

Thank you for a summer well spent and wishing you happy autumn blessings.
Enjoy the crisp cool nights, colorful hews of leaves, and the glistening dew representing God's mercy new and afresh every morning.
Kindest regards,
Constance A. Burns
CEO/President NAAV, Inc.
Washington, DC