The National Association of American Veterans, Inc. (NAAV) and the CABEL Foundation, Inc. are partnering in support of Veterans and their family members most in need of homeownership and financial literacy in the greater Washington Metropolitan Area. NAAV provides emergency assistance referrals, counseling referrals, legal, employment, and housing assistance to severely injured Servicemembers and disabled Veterans and their families most in need nationwide. The CABEL Foundation's mission is to provide the community-at-large opportunities to receive comprehensive Financial Literacy education that will help them in their personal financial decisions about their future as well as that of youth.
Posted in Partner News
PC Retro, a Wisetek Company, is an industry leading retailer of new and refurbished electronic equipment. Our "Computers for Everyone" philosophy has guided us for nearly 30 years in the business. We are proud to offer top quality, business grade computer equipment to our nation's cherished veterans. Please request a special discount code directly through […]
StreetWise Fall 2017 Programs
Jasmine Schmidt has taken on the role of Program & Community Outreach Coordinator, and will be the POC for mentees and community partners moving forward. Jasmine can be reached at jasmine@streetwisepartners.org, and would love to connect with you!
The bi-annual Community Partner Breakfast is coming up! Please save the date: Wednesday, July 19th from 9-10:30am.
Our Fall 2017 partner referral guide and mentee flier with fall dates are now ready and available below.
Referral Info Guide for SWP Community Partners – FA17
Mentee Recruitment Flier Fall 2017 – DC
APPLY TO STREETWISE PARTNERS' CAREER VENTURES PROGRAM
StreetWise Partners FREE Career Mentoring Program!
Receive individual career guidance and expand your professional network through our 3-month mentoring program hosted at top DC corporate offices, Gallup and White & Case!
– Learn about career planning, interview techniques, networking, LinkedIn, and professional etiquette
– Be matched with mentors based on preferences, career interests, and personality
– Have access to a network of hundreds of volunteer professionals, trainees, and 3,000 alumni graduates
How to Apply:
1) All applicants MUST attend an information session in central Washington, DC. Please sign up here.
2) Applicants also need to fill out an online application, although it will not be processed until you've attended an information session. You are welcome to fill it out in advance here.
3) Once your application is processed, you will be contacted to schedule an in-person interview
*Application deadline for Fall 2016 programs is Friday, September 9th*
Admission Requirements:
– Highly motivated
– Actively looking for a job (full-time or part-time) in a professional office environment, such as business, non-clinical healthcare, IT, nonprofit, marketing, government, or office administration
– Have a high school diploma/GED/HSE
– Can have a Bachelor's degree from a US or foreign university, but do not need college experience
– Legally eligible to work in the US
– Familiarity with Microsoft Word and basic computer skills, as well as regular access to a computer and e-mail
– Proficient in speaking and writing in English
The StreetWise Partners Career Ventures Program is held at the following times: (please note that you will need to choose one of the program options
and attend that same weekly session for the full 3-month program)
Washington, DC Fall 2016
Gallup
Wednesdays
6:30pm – 9pm
Sep. 21st – Dec. 14th
White & Case
Saturdays
11:30am – 2pm
Sep. 24th – Dec. 17th
Questions? Please contact Emily Starace, Senior Program Coordinator, at emily@streetwisepartners.org.
SAT/ACT Prep Donated to Military
ONLY 4 Saturdays left
before the Next ExamÂ
Next SAT/ACT Exams
SAT: August 26
ACT: September 9
During the summer, The SAT/ACT Prep Project is sponsoring your student for "All-Access Premium Pro with New Math Supplement"
A full year of this $699.99 course for only $39.99
* PILOT PROJECT FOR TEACHER TALK – An In-App Live Teacher Chat is now available.
** SAT/ACT POWERPREP PREMIUM PRO WITH MATH SUPER SUPPLEMENT ? It's the equivalent of a full semester course with a dedicated personal instructor. It includes:
* 300+ hours of student participation time
* 54+ hours of On Demand video presented by our professional instructors all of whom have advanced Master and PhD degrees
* 460+ video/multimedia lessons
* 800-page eBook, integrated and cross linked inside the program
* Hundreds of practice questions with intricately detailed answers
* The $699.99 program cost is paid by the sponsors and partnership. There is a fee of $39.99 paid by the student that covers the cost for streaming, student support, customer support and materials. All student fees are reinvested to improve the program and reach more families. The Project does not create a profit.
Instant access from any internet device including any Apple, PC, Android, computer, tablet, or phone
If you have questions, please call: 951.256.4076
Don't be like Katnis!
Prepare now for the SAT/ACT
Next Exams
Information about Prep Program – National Association of American Veterans
National Association of American Veterans 2018 Flyer
School is starting and the SAT/ACT testing is here. You can help! Please let your Service members and their families know they are eligible for
FREE $350 SAT/ACT
Semester-length, study at your own pace, online,
interactive, multimedia video courses.
Just let them know about your landing page
These programs are priced so that every student and family can have equal access to quality, full semester-length SAT and ACT prep courses. No student needs to be left behind!
These programs have everything students need to be totally prepared for the exam and position themselves for scholarships.
If you have any questions check out our information site.
For more information regarding your options, please contact Cheryl Litras at 951-256-4076 or email: cheryl@eknowledge.com.
The Donation Project waives the full retail price of $350 for all Standard Programs. There is a student fee of $14.99 that covers for streaming, student support, customer support and materials. All fees are reinvested to improve the program and reach more families. The Project does not create a profit.
Recent comment from Service Members:
Thank you for your help Cheryl, I am so impressed with the customer service we receive from you and the service you provide through eKnowledge that is such a great benefit to our military families! Thank you again! Respectfully, Amy L. Jensen, School Liaison Officer (SLO)Military Resiliency Trainer (MRT), STEM Outreach Coordinator, McConnell AFB, KS 67221
"I wish I had known about this years ago when my oldest child was studying for her act. I have two children in college and am purchasing this for my son, my third, and it is a huge help. I was worried about affording the new version for him. Thank you so much for your generous support and I will most definitely pass the information along to my other military friends and family." Antronette Williams, Military.com August 1, 2016
New PNC Bank Partner
Constance A. Burns, founding president, chief executive officer, and Veterans' service administrator for the National Association of American, Inc. (NAAV), met with Sam Howlader, vice president and branch manager and James C. Kim, market manager and executive vice president for the PNC Bank at 800 17th Street, NW, Washington, DC to discuss plans to provide financial support and assistance for service members and veterans in the areas of employment and training. The PNC Bank will also sponsor other group activities through NAAV related to caregivers of veterans at the Walter Reed National Military Medical Center in Bethesda, Maryland and the DC VA Medical Center in Washington, DC.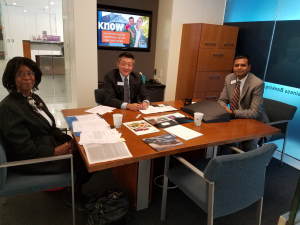 Trainee Info Sessions are Underway for Fall Programs with StreetWise Partners
We are now underway with recruitment for our Fall Career Ventures Programs, and we want to serve your clients from National Association of American Veterans in our upcoming programs.
To refer, please direct interested candidates to register online for an information session (link below); once we receive their registration, we follow up with them to provide location details and guide them through the application process.
Trainee Info Session Registration: http://streetwisepartners.org/dcinfosession/
Please see below for a reminder of the qualifications for our program and our fall program dates, and don't hesitate to follow up with me with any questions!
Admission requirements:
-Actively looking for full-/part-time employment
-Highly motivated to pursue a career in a professional office environment
-Has high school diploma or equivalency (or is in a structured HSE program)
-Legally eligible to work in the United States
-Familiar with Microsoft Word and basic computer skills
-Proficient in spoken and written English
*Registration deadline for fall programs is 9/9

Fall 2016 Program Dates
Gallup
Wednesdays
6:30pm – 9pm
Sep. 21st – Dec. 14thWhite & Case
Saturdays
11:30am – 2pm
Sep. 24th – Dec. 17thWe're very excited to meet your referrals!
Contact:
Emily Starace
Sr. Program Coordinator
StreetWise Partners, Inc.
1615 L Street NW, Suite 1300
Washington, DC 20036
202-454-2085 |
emily@streetwisepartners.org
http://www.streetwisepartners.org
Support the National Association of American Veterans by becoming an ACN Customer!
ACN is the largest direct-selling telecommunications company in the world with market presence in 24 countries, more than a million customers and annual revenues exceeding half a billion dollars! ACN provides home and business customers with the telecommunications and essential services they already need and use every day, as well as the cutting-edge services of the future.
You're buying these services anyway. If you buy them from ACN, NAAV will receive a percentage of your monthly billing. In other words, our organization will receive a direct financial recurring amount from ACN for as long as you remain an ACN customer or for the term of your agreement.
MagicMobility – Wheelchair Van Assistance Program
A nationwide program, which receives donated adapted vehicles and distributes them, free of charge, to local needy individuals. They have a special emphasis on helping disabled veterans, as a small token of appreciation for their dedicated service to our country. This provides a wonderful legacy for the donor, as well as the best IRS tax deduction for a vehicle donation; since the vans are not sold, but are instead transferred to a needy recipient.
If you know of someone who has an adapted van, for a wheelchair or scooter, to donate …or is in need of one, please visit www.mobilityforvets.org to learn more.
A project of Special Kids Fund, 501c3, www.specialkidsfund.org
Society of American Military Engineers
The Society of American Military Engineers (SAME), the premier professional military engineering association in the United States, unites architecture, engineering, construction (A/E/C), facility management and environmental entities and individuals in the public and private sectors to prepare for—and overcome—natural and manmade disasters, and to improve security at home and abroad.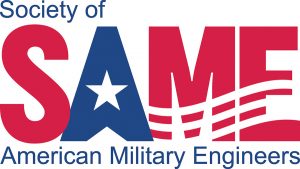 MobilityWorks
The National Association of American Veterans (NAAV) and MobilityWorks have developed a partnership with the common objective of assisting disabled American Veterans. Through their network of over 60 stores and the largest inventory of wheelchair accessible vans, cars and trucks, MobilityWorks personalized approach finds the best solution for veterans unique needs. MobilityWorks believes every person deserves to be connect to who and what matters most in their lives.