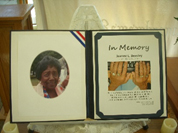 On Wednesday, November 22, 2017, the National Association of American Veterans, Inc. President and Chief Executive Officer, Constance A. Burns, attended the "Dedication to Our Fallen Comrades, Men and Women of Service" at the Armed Forces Retirement Home–Washington at 3700 North Capitol Street, NW, Washington, D.C. AFRH-W residents, staff, and guests were present at the Memorial Recognition Services of seven residents who represented the United States Army, Navy, Air Force, and Coast Guard and who passed in October or November 2017 at the AFRH-W. Those attending and staff expressed gratitude for the seven Veterans for their services and dedication to our nation and to others residing at the Armed Forces Retirement Home–Washington. The seven Veterans honored served many years ago on active duty for the U.S. Armed Forces. The average age of the Veterans who passed was a little more than 89 years. The Memorial included the following Veterans:
George W. Brewer, Jr., United States Air Force
John A. Worsham, United States Coast Guard
Thomas W. Bartleman, United States Navy
Jeanne L. Beasley, United States Army
James H. Brown, United States Air Force, United States Army, United States Navy
Frank Nash, United States Army
Edward H. Woessner, United States Air Force
The program was presented by the AFRH chaplains with the closing remarks by Ronald Kartz, Chief, Resident Services at AFRH-Washington.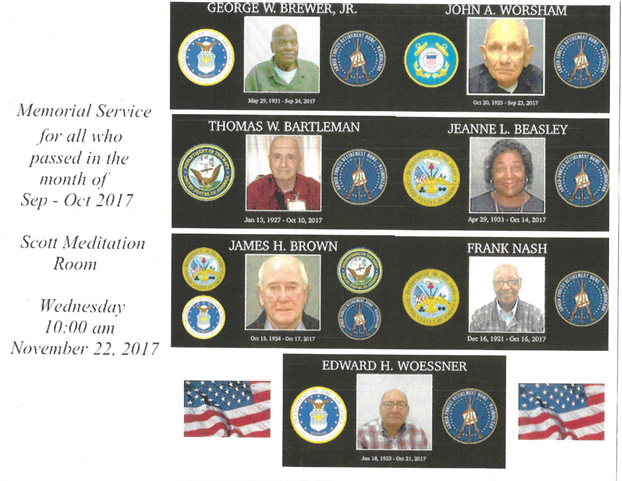 Gwendolyn D. Hendly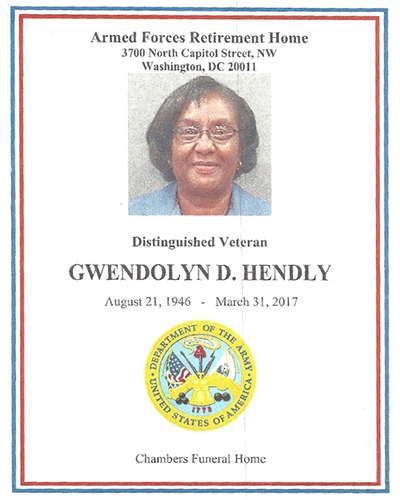 Staff Sergeant Gwendolyn Hendly served as a Practical Nurse in the United States Army for more than 14 years. She also served as Medical Non-Commissioned Officer (NCO). It appears that most of her service was in the medical field. Her total years in the military was twenty years.
She received the following decorations, medals, and badges: Army Commendation Medal (2nd Oak Leaf Cluster); Army Good Conduct Medal (5th Award); National Defense Service Medal; NCO Professional Development Ribbon (3); Army Service Ribbon; Overseas Service Ribbon (2); and the M-16 Sharpshooter Badge.
She will be greatly missed by those who knew and loved her. Take comfort—those who love God will be reunited in eternity.

Bruce Johnson

Bruce Alfred Johnson, 92, of Boynton Beach, Florida, passed away on Sunday, October 23. He was a resident of Spring Lake, New Jersey, for 57 years and a Florida resident for 35.
As a youth, he was an Eagle Scout and a graduate of Asbury Park High School. Bruce served in World War II as a torpedo bomber stationed on the USS Ticonderoga. He saw action during the Battle of the Philippines, for which he was highly decorated.
After the war, Bruce was captain of the nationally prominent University of Miami tennis team. He was later a three-time New Jersey State men's tennis champion.
After a 35-year business career, Bruce retired as EVP and COO of Triangle Industries, Holmdel, New Jersey. In his retirement, he participated on the senior men's tennis circuit. He victoriously represented the United States in the Gordon Trophy and Britannia Cup competitions and played well into his eighties. In addition, he wrote an autobiography, A Good Life Revisited, and This Above All.
He leaves his wife of 63 years, Joan Sieminiski ("Joanz"), sister Paula Handler, son Stephen, daughter-in-law Alison, daughter Cynthia Bruckmann, son-in-law William, granddaughter Stephanie, grandsons Will (Melissa), Paul (Heather), and Scott, great-grandson Luke, and great-granddaughter Isabella. He was predeceased by an infant daughter, Mary Judith.
A memorial service was held at Palm Beach Memorial. Bruce will be buried in South Florida National Cemetery in Lake Worth, Florida. In lieu of flowers, the family requests a donation to the National Association of American Veterans, www.naavets.org.
NAAV's Veteran Memorial is designed to recognize and remember the legacy of those who served in the United States Armed Forces and are now deceased into the comfort and care of God the Holy Spirit. It is also a time to remember loved ones of the deceased who feel the reality of mortal life, and when the presence of the Lord brings comfort, consolation, and hope.
In memory of Johnnie H. Holt, Captain, U.S. Air Force (Retired) of Richmond, Virginia who passed away January 2015.
NAAV gives its condolence to his beloved daughter Ms. Bonnie Holt-Griffith of Piscataway, NJ
Sorrow is a fleeting emotion, but love is infinite.
In memory of James H. Nichols, Jr., of Richmond, Virginia who died on January 14, 2015. He leaves to mourn his cousin Bill Lawrence of Hoover, Alabama and two daughters Lynn Lloyd of Henrico, Virginia and Lisa Nichols of Arlington, Virginia; and dear friends CJ and Mary Wilcox of The Villages Florida. Take comfort-those who love will be reunited in eternity.
You are in NAAV's thoughts every step of the way.
In memory of Jerry Dean Mullins, U.S. Navy, 1955-1959 of Prosper, Texas who passed in January 2015. NAAV sends its
deepest sympathy to Lynda Rexrode a friend from his Class of 1958 and his son Ronny Mullins of Prosper, Texas and family.
When the Lord calls our loved ones home, he leaves a gift of memories in exchange. NAAV is here if you want to talk.
In lieu of flowers, Memorial Contributions may be made to the National Association of American Veterans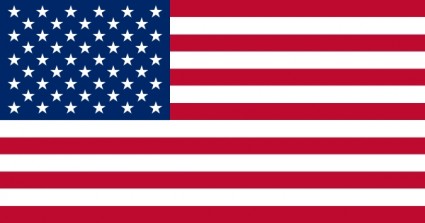 Donate Online or by mail:
President/CEO,
P.O. Box
6865, Washington DC, 20020-0565